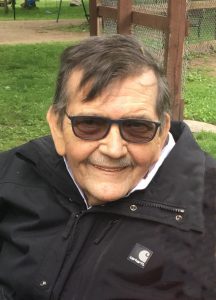 Michael Grannes, age 67, of Clara City, died Saturday, February 17, at Rice Memorial Hospital in Willmar.
Celebration of Life service will be 3 p.m. Sunday, February 25, at Unity Christian Reformed Church in Prinsburg with visitation one hour prior to the service at the church.  Interment will be 1:30 p.m. Sunday at Holland Township Cemetery.  Arrangements are with the Tri-County Funeral Home in Prinsburg.
Michael Allen Grannes was born May 22, 1950 in Redwood Falls, Minnesota, the son of Leland and Dorothy (Dripps) Grannes.  At the age of 18 months he was stricken with polio and "served time" as he would have said, at both Sister Kenny Institute and Gillette Children's Hospital off and on during his childhood.  It's there, one might guess, that he developed the stubborn independence and perseverance that served as both a great benefit and just a wee bit of a detriment during his life.  The good looks and quick wit, however, he was born with.  Michael was baptized and confirmed in the Lutheran Faith.  He grew up in Olivia and graduated from Olivia High School  in 1968.  He then attended Northwest Technical College in Detroit Lakes earning his degree in Auto Body.  Michael worked in and later owned various auto body shops in the Glencoe and Biscay area.  In the early 1980's, he returned to Olivia and began driving truck.  He later became an independent truck driver, driving coast to coast and border to border.  He retired in 2012 and moved to the mountains of Missoula, Montana, a place that he had always dreamed of living as he traveled through the area on the interstate.  In 2016 he returned to Minnesota to be closer to his family.  He died the way he lived.  The way he wanted.  Independent, proud and with no fear, but most importantly with the light of God in his heart.
Michael is survived by a son: Eric (and Mindy) Grannes of Prinsburg, MN; four granddaughters: Samantha, Brianna, Etta, and Giada; two great-grandchildren: Sophie and Dante; 5 stepchildren, 11 step-grandchildren, and 3 step-great-grandchildren.  Also surviving are a sister: Jeanne (and Joe) Savage of St. Paul; a brother: Bryan (and Deb) Grannes of Sacred Heart; several nieces and nephews; and other relatives and friends.
He was preceded in death by his parents; and a son, Paul Grannes in 2015.
Share this article