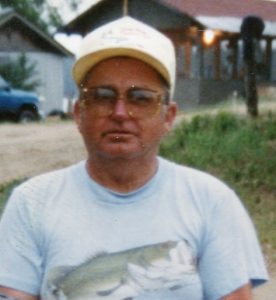 Ardell Byron Docken, age 78, of Sacred Heart, died Wednesday, February 14, at the Granite Falls Care Center in Granite Falls.  Funeral services will be 11:00 a.m. Wednesday, February 21, at Our Savior's Lutheran Church in Sacred Heart.  The Rev. Dale Svendsen will officiate.  Burial will be in the church cemetery.   Visitation will be Tuesday from 5-7 p.m. and will continue on Wednesday one hour prior to the services all at the church in Sacred Heart.  Arrangements are with Dirks-Blem Funeral Service, Renville.
Ardell Byron Docken was born on September 8, 1939, in Renville, Minnesota to John G. and Beulah (Carlson) Docken.  He grew up in Sacred Heart and graduated from Sacred Heart High School in 1957.  Ardell was united in marriage to Kathleen Odegaard on September 22, 1962, at Our Savior's Lutheran Church in Sacred Heart.  Ardell worked for a couple of local service stations prior to going to work in the maintenance department for the City of Sacred Heart.  He worked for the city for 26 years, following his retirement from the City of Sacred Heart, he then owned and operated the laundromat in Sacred Heart from 1982 until the present.   He was a member of Our Savior's Lutheran Church in Sacred Heart, served on for 31 years and was a past chief of the Sacred Heart Fire Department, and a member of the Sacred Heart Lions Club.  He loved hunting and fishing, watching football, playing with his dog Gunner, and spending time with his grandchildren.
Survivors include his son Chad of Montevideo, his two grandsons Chayce and Cayden; his siblings:  John Docken of Sioux Falls, SD, Geneva Steinbach of Granite Falls, and Rosella (and Mar) Knittle of Discovery Bay, California; many nieces, nephews, and other relatives and friends.  He was preceded in death by his parents, and his sister Melesther Jordet.
Share this article