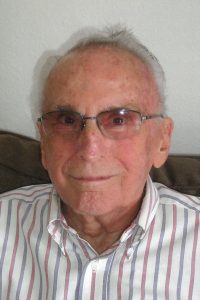 Eric A. Blauert, Jr., age 88, of Renville, died Tuesday, February 13, at the RenVilla Nursing Home in Renville.  Funeral services will be 4:00 p.m. Saturday, February 17, at First Lutheran Church in Renville.   The Rev. Stephen Cook will officiate.   Burial with military honors will be in Fairview Cemetery.  Visitation will be one hour prior to the services at the church in Renville.  Arrangements are with Dirks-Blem Funeral Service, Renville.
Eric A. Blauet, Jr. was born on March 1, 1929, in Dupree, South Dakota to Eric A. and Ethel Nora (Thompson), Sr.  He and his family lived in South Dakota until Eric was two, at this time they moved to Renville.  He graduated from Renville High School in 1947, and then continued his education at the Minneapolis Business College.   Eric was united in marriage to Marvel Wulf on November 11, 1950, at St. John's Lutheran Church in Renville.   Eric served his country in the United States Army during the Korean War.  He was in Korea from 1951 until 1953, and served with an artillery unit on the 49th parallel.   Upon his discharge from the Army, he returned to Minneapolis and continued his education.  In 1954, he began working for Chesapeake and Ohio Railroad.  He worked as an office clerk and later as a sales rep. for the railroad.  He lived and worked in Buffalo, NY, Detroit, MI, Chicago, IL, and Minneapolis, MN over the years, retiring in 1984.  Following his retirement, he moved to the Charlie Wulf farm south of Renville and lived there until moving to Meadows on Main in September of 2009.  He was a member of First Lutheran Church in Renville and the Renville American Legion.  He enjoyed cooking, gardening, hunting and fishing, and was active in the Singles and Solos Club-where he was voted Father of the Year.
Survivors include his son and daughter and their spouses:  April (and Gregg) Polski of Mendota Heights, and Mark (and Kay) Blauert of Glenwood; six grandchildren and two great grandsons; his sister-in-law Betty Wulf of Renville; and many nieces, nephews, and other relatives and friends.  He was preceded in death by his parents, his wife Marvel in 1976, and his sister Georgia Zirkle.
Dirks-Blem Funeral Service, Renville, MN
Share this article