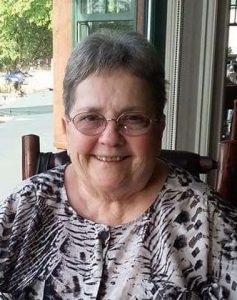 Mary Ann Savage, age 74, died on February 11, 2018, at Augustana Chapel View Care Center in Hopkins, Minnesota.
Visitation will be on Saturday, February 17, 2018 from 9:30 am to 11:00 am at the St. Raphael's Catholic Church.
Mass of Christian Burial will be held at the St. Raphael's Catholic Church, Springfield, MN, on Saturday, February 17, 2018 at 11:00 am.
The clergy will be Father Phil Schotzko . Interment will be at the St. Paul Catholic Cemetery in Comfrey, Minnesota.
Arrangements are with the Sturm Funeral Home in Springfield, Minnesota. On line condolences may be left for the family at www.sturmfh.com.
Mary Ann Savage was born on June 21, 1943 to Peter and Elizabeth (Schuster) Erickson in Tintah, MN. She graduated from Tintah High School in 1960. On August 24, 1963, Mary Ann was united to Michael Savage in Tintah, MN. Mary Ann lived on Lake Minnetonka for 37 years and then moved to Orono in 2015. She worked for a jewelry company where she set up jewelry displays and managed inventory and she also worked for Tonka Toys in Mound, MN. She enjoyed traveling, boating, trips to the casino, watching the Minnesota Twins and Vikings, and especially time with her grandchildren.
Mary Ann died on Sunday, February 11, 2018 at Augustana Chapel View in Hopkins, MN at the age of 74.
She is survived by her children Alan (Ellie Kingsbury) of Minneapolis, Greg of Crystal, and Scott of Edina; grandchildren – Drew, Sydney, Macie, and Russell Kingsbury, and Frank Savage; and brother Lyle Erickson. Mary Ann was preceded in death by her parents; husband Michael in 2010; and siblings – Edward, Robert, Lavern, Marlys, and Elizabeth.
Share this article