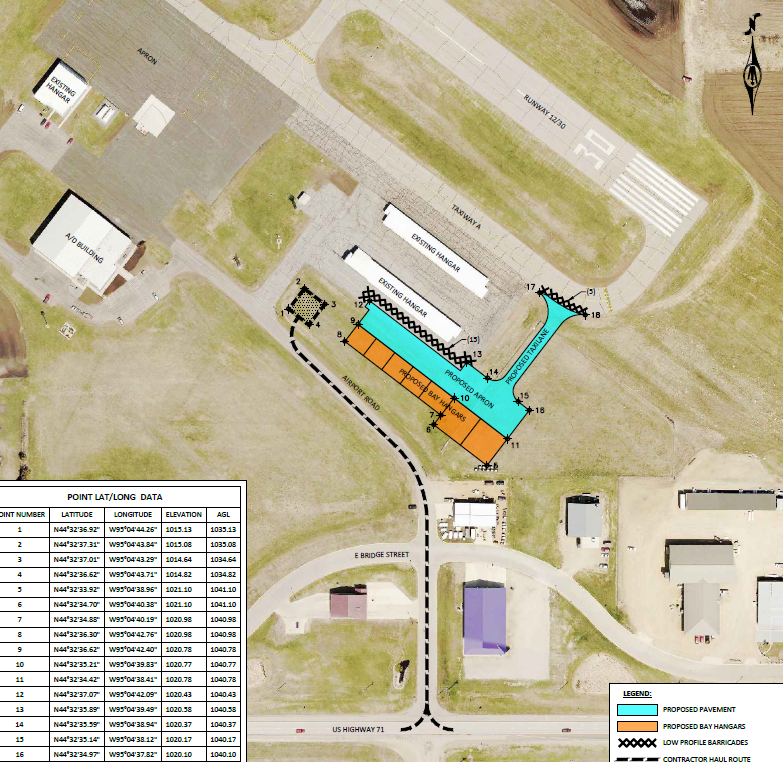 On Tuesday evening, the Redwood Falls City Council approved the plans and specifications for a new seven-bay hanger for the Redwood Falls airport.
The engineer's estimated cost for the full seven-bay hanger is $1,505,276. Of that, $1,354,729 would come from Federal funds, another $75,263 would come from the Minnesota Department of Transportation, and the last $75,263 would come from city funds, leaving $109,725 to be funded from other sources yet uncommitted.
If the total funding can't be secured, the plans call for reducing the number of bays by one or two, as necessary, to stay within the amount of funding that can be raised.
Bids will be opened by the city on March 1, with a tentative construction start of May 31, most construction finished by Dec. 28, and final finishing of the paved areas by June 28, 2019.
In other city news, the council:
Approved a resolution to declare a house and garage located at 120 E. Wyoming Street to be a hazard to public safety, and ordering the owner (currently, the First Evangelical Christian Church) to fix or remove the hazardous buildings.
The city's attempts to work with the previous and current owners on making the properties safe began at the end of last August. Richard Clements, representing the church, said the church does intend to fix up the properties as soon as the weather warms. The declaration approved by the city councilors gives a timeline to expect improvements and progress by the end of August.
Approved the appointment of Samantha Felt as the new Parks and Recreation Operations Coordinator.
Approved the appointment of Steve Schroeder as the new Assistant Police Chief.
Approved the Public Utilities advertising for bids for repairs to the hydro turbine generator, which was damaged during a lightning strike in late September. PUC Superintendent Chuck Heins said the expense to the utilities should only be the insurance deductible, which is $50,000.
Share this article