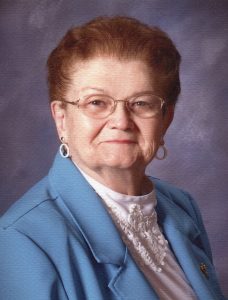 Delores Gertrude Lindahl, age 84, of Renville, died Wednesday, January 31, at the RenVilla Nursing Home in Renville.  Funeral services will be 11:00 a.m. on Monday, February 5, at St. John's Lutheran Church in Renville.  The Rev. Rick Tuttle will officiate.  Burial will be in Fairview Cemetery in Renville.  Visitation will be Sunday afternoon from 3-5 p.m. and will continue on Monday one hour prior to the services all at the church in Renville.  Arrangements are with Dirks-Blem Funeral Service, Renville.
Delores Gertrude Lindahl was born on February 11, 1933, on the family farm south of Renville to Herbert and Gertrude (Lankenau) Bratsch.  She grew up on the family farm and graduated from Renville High School in 1951.  She then worked for Jennie-O in Willmar and this is where she met her future husband James Lindahl.  They were united in marriage on September 20, 1953, at St. John's Lutheran Church in Renville.  They lived in the New London area for a short time and then moved back to the Bratsch family farm south of Renville.  Delores lived on the farm until 2007, when she moved into town.  She was a member of St. John's Lutheran Church and active in the Dorcas Society, she was also a member of the Renville American Legion Auxiliary and the Homemaker Club.  Delores loved gardening, canning, and baking cakes and doing wedding flowers.  She also loved music and enjoyed playing the organ and accordion.  She also loved playing games with her grandkids, two of her favorites were Renville Rip off, and Kings in the Corners.
Survivors include her daughter and sons: Karen Zieske of Renville, Gary (and Dawn) of Lake Lillian, and Wayne (and Stacy) of Renville; her 10 grandchildren:  Melissa, Tasha, Stephanie, Whitney, Logan, Trudy, Jesse, Garrett, Shanda, and Courtney; her 7 great grandchildren:  Zenner, Everly, Reese, Lucy, Kale, Sawyer, and Lauryn; her sister-in-law Janet Bratsch of Renville; and many nieces, nephews, and other relatives and friends.  She was preceded in death by her parents, her husband Jim in August of 2004, her daughter Deanne, and her two brothers Irving and Orvel.
Share this article