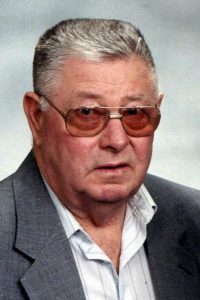 Lawrence Karnik, age 89, of Litchfield and formerly of Spicer and Bird Island died peacefully Sunday, January 28, 2018 at Meeker Memorial Hospital in Litchfield. Mass of Christian Burial is Friday, February 2nd at 1:15 p.m. at St. Mary's Catholic Church in Bird Island with Rev. Dennis Labat as celebrant. Burial is in the church cemetery. Visitation is Thursday, February 1st from 5-8 p.m. at St. Mary's Catholic Church and continues there Friday from 12:00 noon to 1:15 p.m. Arrangements are with Dirks-Blem Funeral Service of Olivia.
Lawrence Rudolph Karnik was born August 4, 1928 on the family farm north of Bird Island, MN, the son of Joseph and Agnes (Rock) Karnik. He married Lorraine Kodet on June 6, 1951 at St. Mary's Catholic Church in Bechyn, MN. They began their married life on the family farm before moving into Bird Island. The marriage was blessed with four daughters. Lawrence started as a farmer then went to work at St. Mary's Catholic Church and Schools for 34 years. He retired in 1991 and they relocated to Spicer, MN. Lawrence enjoyed fishing, hunting, camping, dancing, playing cards, listening to old-time music, and especially spending time with family. Lawrence was a longtime member of the Knights of Columbus and also enjoyed volunteering at the Renville County Fair.
Lawrence is survived by his wife of 66 years, Lorraine Karnik of Litchfield; his four daughters: Kathleen (Brian) Schmoll of Darwin, Charlene (Paul) Garrison of Litchfield, Karen Karnik (John Borek) of Austin, TX, and Cindy (Steve) Wadsworth of Hutchinson; his grandchildren: Chris (Maureen) Schmoll, Nicole Schmoll, Charisse Triche, Matthew (Kalli) Triche, Christi Triche, Briana Garrison, Erick (Rosalyn) Kotila, Hailey Borek, Danielle Wadsworth, Brandlyn Wadsworth, Daeshaundra Wadsworth, and Logan Wadsworth; and his great-grandson Aiden Triche. Lawrence was preceded in death by his parents.
Share this article