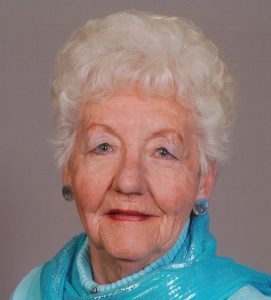 Lois Mariner, 84, of Redwood Falls passed away unexpectedly on  Friday, January 26, 2018 at her home in Garnette Gardens. Funeral services will be held at 11 a.m. on Friday, February 2, 2018 from Gloria Dei Lutheran Church in Redwood Falls with burial to follow in Redwood Falls Cemetery. Visitation will be held Thursday, February 1, 2018, from 5 until 8 p.m., at Nelson-Hillestad Funeral Home in Redwood Falls and will continue on Friday, from 10 until 11 a.m., at the church.
Arrangements are with Nelson-Hillestad Funeral and Cremation Service of Redwood Falls. E-mail condolences may be sent via www.nelson-hillestad.com.
Lois Arlene Mariner, the daughter of Ronald and Gladys (Meyer) Johnson, was born February 23, 1933 in Springfield. She grew up in Charlestown and Sundown Townships in Redwood County and attended Sanborn High School, graduating in 1951.
On July 19, 1952, Lois married John Mariner in Seattle, Washington. She stayed in Sanborn while John was in the service then, following his discharge, the couple lived in Indiana for a short time. They later moved to Springfield for four years, to Blaine for a couple years and then back to Springfield. In the fall of 1965, the Mariner family moved to Redwood Falls where Lois resided until her death. She was a member of Gloria Dei Lutheran Church.
Lois worked as a lunch and recess monitor at Sunnyside (Reede Gray) Elementary School for many years. She then did daycare in her home for a short time before beginning her employment at the Day Activity Center (DAC) in Redwood Falls. Lois worked at the DAC for over 18 years and thoroughly enjoyed her co-workers and the participants. An annual highlight for Lois was the production of Korn Kob Korners Review.
Lois always enjoyed music, playing the piano and organ. She loved the outdoors, the smell of fresh-cut grass, cheering for her Minnesota Twins, golfing, dancing, camping, playing Skip-O, and anything involving family.
Lois is survived by her children Vicki (John) Doth of Blaine, Pat (Brian) Serbus of Redwood Falls, Linda (Mike) U'Ren of Redwood Falls, RJ (Dan) Seehusen-Mariner of Olivia, and Tim (Rhonda) Mariner of Peach Tree City, Georgia; 15 grandchildren and step-grandchildren; 12 great-grandchildren and step-great-grandchildren; and siblings Bernard (Martha) Johnson of Hardwick, David (Betty) Johnson of Sanborn, Gary (Judy) Johnson of Winnebago, and Sharon Firle of Oakdale.
She was preceded in death by her parents and her husband, John.
Blessed be her memory.
Share this article