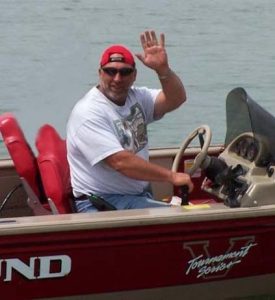 Daniel L. Nachreiner, age 65 of Springfield, MN died on January 27, 2018, at Sleepy Eye Medical Center.
Visitation will be on Wednesday, January 31, 2018, from 4:00 pm to 8:00 pm at the Sturm Funeral Home in Springfield and will continue on Thursday from 10:00 am until 11:00 am at the St. Paul Lutheran Church in Springfield, MN.
Service will be held at the St. Paul Lutheran Church on Thursday at 11:00 am.
The clergy will be Pastor Tricia Mattson.
Interment will be at the St. Paul Lutheran Cemetery in Springfield.
Arrangements are with the Sturm Funeral Home in Springfield.
On line condolences may be left for the family at www.sturmfh.com.
Daniel Lawrence Nachreiner was born on October 3rd, 1952 in Sleepy Eye to Leon and Betty (Roiger) Nachreiner. In 2012, he was diagnosed with prostate cancer and lost his courageous battle on Saturday, January 27th at the age of 65. Danny attended Japanese Martyrs School in Leavenworth and graduated from Sleepy Eye High School in 1970. He worked for Halter Trucking for the last 35 years as a truck driver, dispatcher and most recently, head mechanic. He was united in marriage on September 12th, 1986 to Linda Hale. They were blessed with their three children; Nicole, Joshua and Amber. Danny served on the Springfield Fire Department for several years. He enjoyed playing cards, playing softball, coffee talk, driving around, spending time with Battle Lake friends, fishing, campfires, collecting coins, deer hunting, sports (especially the Vikings), and spending time in his "man cave." He loved spending time with his family and friends; especially, his grandchildren and their birthday parties in the garage, sharing treats and ice cream. The grandchildren always looked forward to golf cart and boat rides with Grandpa, "Papa" Danny.
Danny is survived by his wife, Linda, children; Nicole (Derek) Shaw, Joshua (Allison) Nachreiner all of Springfield, and Amber (Keaton) Borth of Sleepy Eye. Grandchildren; Alyssa, Jenna and Abigail Shaw and Ian Nachreiner. Siblings; Duane (Jelene), Linda (Stan) Schroepher, Terry (Theresa), Paul (Gay), Lynnae (Steve) Pelzel, sister-in-law Gloria Nachreiner, mother-in-law Beverly Hale and numerous nieces, nephews, aunts, uncles, cousins and friends. Danny was preceded in death by parents Leon and Betty Nachreiner; father-in-law; Harvey Hale, brothers; Randy, Patrick and James, baby girl sister, nephews; Dustin, Nathan and Adam.
Danny's infectious smile, jokes and laughs will be deeply missed!
The family of Danny Nachreiner wishes to thank you for your kindness and sympathy at a time when it was deeply appreciated.
No individual Thank You notes will be sent.
Share this article