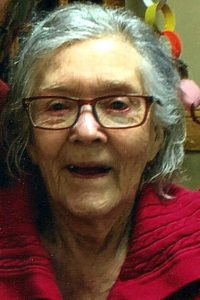 Marion Sawin, age 93, of Olivia, died Tuesday, January 23, at the Olivia Nursing Home. Funeral services will be Monday, January 29th at 10:00 a.m. at Dirks-Blem Funeral Home in Olivia with Rev. Matt Hausken officiating. Burial is in the Olivia Cemetery. Visitation is Sunday 4-6 p.m. at the funeral home and continues there Monday for one hour prior to the funeral.
Marion M. Sawin was born October 27, 1924 at Chicago, IL, to William and Margaret (Thompson) Basse. She grew up at Chicago and graduated from Taft High School. During WWll Marion worked at Douglas Airplane Manufacturing during the "Rosie the Riveter" period. She married Edwin Sawin on March 11, 1944 and they were blessed with one daughter. Ed and Marion made their home in rural Olivia and she resided there nearly 70 years. Marion was a farmer alongside her husband and her enjoyment of livestock carried through to being a 4-H Leader to area youth for 15 years. She also assisted Ed in his TV Sales business for many years. Marion was always active and enjoyed swimming at the local pool where she was a Life Guard and water exercise instructor. She was also an active member of the Golden Tappers for many years. Marion's community spirit was evident in her volunteering at the Heart-to-Heart program and Renville County Food Shelf. Marion had enjoyed traveling with Ed and later with her daughter and son-in-law. Marion could often be seen driving around Olivia in her Geo Tracker with her Boxer companion sharing the front seat. After her health failed she became a resident of the Olivia Nursing Home and Rehabilitation Center.
Marion is survived by her daughter Bonnie (and Lowell) McCoy of Breckenridge, CO; her two grandchildren: Sean (and Sarah) McCoy and Molly McCoy (and Jason Delinsky); and her great-granddaughter Lina Delinski. Marion was preceded in death by her husband Ed in 1998; and her two sisters and three brothers.
Share this article