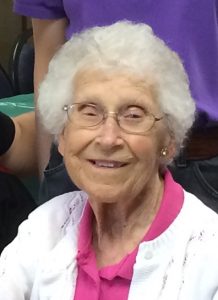 Delores Maxine Dombrouski, age 92, of Granite Falls, died Saturday, January 20, at the Granite Falls Manor.  Funeral services will be 1:00 p.m. Wednesday, January 24, at Our Savior's Lutheran Church in Sacred Heart.  The Rev. Dale Svendsen will officiate.  Burial will be in the church cemetery.  Visitation will be on Wednesday from noon to the 1 p.m. funeral service at the church in Sacred Heart.  Arrangements with Dirks-Blem Funeral Service, Renville.
Delores Maxine Dombrouski was born on October 1, 1925, in Sacred Heart, MN to Arthur and Adeline (Hagen) Paulson.  She graduated from Sacred Heart Public High School in 1946.  Delores was united in marriage to Albert James Dombrouski, Jr. on April 19, 1947, in the Central Lutheran Church in Minneapolis, MN.  Delores and Albert settled in Sacred Heart where they raised five children: James, Michael, Terry, David and DeeAnn.  She worked briefly outside the home, but eventually became a full-time housewife.  She was very active in the Ladies Aid at Our Saviors Lutheran Church in Sacred Heart.  Later in life, she moved to Granite Falls with her daughter where she lived until her death. Delores enjoyed Lawrence Welk and other old time music, especially polkas and waltzes. She was a Minnesota Twins and Vikings fan.
Delores was beloved by her grandchildren: Andrew, Derek, Cody, Anabelle, Rosalind and Joshua; and her great grandchildren: Samantha, Kaitlyn, Kaylee, Lyla, and Henry; all of whom survive her.  She is also survived by her son, James (Jim) and his wife Patricia Wrightson of Washington, DC, her daughter-in law Isabelle of Antioch, CA, and her daughter DeeAnn of Granite Falls.  She is preceded in death by her parents Art and Adeline, her sister Hildred, husband Albert, and her sons Michael, Terry and David.
Share this article