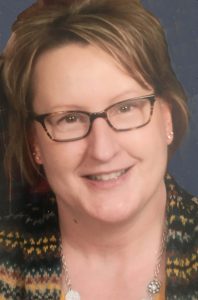 Julie Hayden, age 53 of Springfield, died, Wednesday, January 17, at the University of Minnesota in Minneapolis, Minnesota.
Visitation will be on Tuesday, Jan. 23 from 9 a.m. to 1 p.m. at St. Raphael's Catholic Church in Springfield and will continue on Tuesday from 9:30 am until 10:30 am at the St. Raphael's Catholic Church in Springfield.
A Mass of Christian Burial will be Tuesday, Jan. 23, at 1 p.m. at St. Raphael's Catholic Church.
The clergy will be Father Phil Schotzko.
Interment will be at the St. Raphael's Catholic Cemetery in Springfield at a later date.
Arrangements are with the Sturm Funeral Home in Springfield.
On line condolences may be left for the family at www.sturmfh.com.
Julie Ann Helget Hayden was born on March 18th, 1964 in Sleepy Eye, MN to Kenneth and Sally (Mathiowetz) Helget. Julie was diagnosed with Leukemia in 2011 and an aggressive form of Lymphoma in September, 2017. She died Wednesday, January 17th, at the University of Minnesota surrounded by family and friends at the age of 53.
Julie attended school in Springfield and graduated from Springfield High School in 1982. After graduating, she worked at IGA, American Family Insurance in Mankato, Sanborn Manufacturing Company, Springfield Medical Center, and finally Springfield Floral where she learned to express her creativity.She married Jim Richert and was blessed with their daughter Megan Elizabeth. Julie later married Mike Hayden on August 28th, 1998. From this marriage they were blessed with their daughter Jocelyn Hope. Julie had a love for the Vikings and Twins, flowers, sunsets, watching airplanes, going for walks, Christmas trees, lighthouses, taking pictures of family at anytime and anyplace, soap operas, HGTV, herring, pickles, rootbeer floats, eating at Applebee's, visiting Duluth and Okoboji, and helping at Hayden's Furniture. She had a great love for her family and friends, especially her grandchildren. Thoughtful, caring, and giving were a few words that described Julie. Her sense of humor and quick one-liners brought others a lot of laughter. She offered her family members advice and an opinion whether asked for or not.
Julie is survived by her husband, Mike Hayden; children, Megan Jensen (grandchildren Ellie and Milo Jensen) and Jocelyn Hayden (special friend Chris); parents, Kenny and Sally Helget; siblings, Deb (Mike) Windschitl, Diane (Jeff) Kretsch, Tammy (Corey) Schewe, Scott Helget, Paula (Randy) Sturm; mother and father-in-law, Tom and Linda Hayden; brother-in-law and sister-in-law, Jeff (Jenny) Hayden; and numerous nieces, nephews, aunts, uncles, cousins, and friends. She was preceded in death by grandparents, Florian and Leona Helget, and Florentine and Helen Mathiowetz; niece Abby Windschitl; brother-in-law Ryan Hayden; and aunts, uncles, and cousins.
Share this article