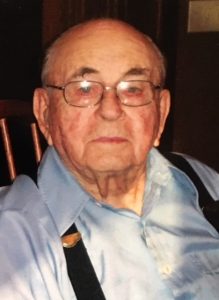 Gilbert Bratsch, age 99, of Danube died Thursday, January 18, at the Olivia Nursing Home in Olivia. Funeral services are Tuesday, January 23rd at 1:00 p.m. at Zion United Methodist Church in Danube with Pastor Keith Mercer officiating. Burial is in the church cemetery. Visitation is Tuesday at the church for one hour prior to the service. Arrangements are with Dirks-Blem Funeral Service, Olivia.
Gilbert Rufus Bratsch was born June 2, 1918 on a farm near Le Sueur, MN, to William and Lillie (Lawin) Bratsch. When he was a small child the family moved to the Danube area. He attended rural schools in Troy Township and helped on the family farm. Gilbert was a lifelong farmer first working for neighbors and then buying his own farm. On July 19, 1938 he married Helen Shubert. They farmed together for 38 years then retired  into Danube.  They were married for 74 years  were blessed with  two children.  Gilbert and Helen loved traveling with his brothers and sisters throughout the United States and Canada.  Gilbert truly enjoyed working the land with family or helping his neighbors. He also loved playing cards with family and friends, dancing, listening to polka music, and talking with anyone he met.
Gilbert is survived by his two children: Harvey (and Charlotte) Bratsch of Olivia and Betty Lothert of Willmar; his six grandchildren: Sheldon Bratsch  (and special friend Lisa Knoll, Lynn (and Steve) Vangsness, Cathy (and Keith) Lillis, Rodney (and Jennifer) Lothert, Ryan (and Michelle) Lothert, and Stacy Bratsch; his ten great-grandchildren: his ten great-great-grandchildren; his siblings Dennis (and Eileen) Bratsch and Willis Bratsch; and many nieces and nephews.  Gilbert was preceded in death by his parents,; his wife Helen Bratsch; his son-in-law Reinhold Lothert; his brothers: Willard Bratsch, Virgil Bratsch, and Percy Bratsch; and his sisters: Savilla Shubert, Deloris Howard, Verona Beckler, Rosalean Savoie, Virginia Faiman, Beverly Kubesh, Ruth Jacobson, and Gloria McGovern.
Blessed Be His Memory
Share this article