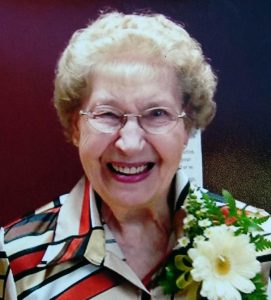 Lorraine M. Harkin, age 87 of Sleepy Eye, died on January 14, at Divine Providence Community Home.
Service will be held at the St. Mary's Catholic Church, Sleepy Eye, on Thursday, January 18, at 11:00 am.
Visitation will be on Thursday, January 18, from 9 to 11 am at the church.
The clergy will be Msgr. John Richter.
Interment will be at the St. Joseph's Catholic Cemetery, Clements about 2pm, following the reception.
Arrangements are with the Sturm Funeral Home in Sleepy Eye.
On line condolences may be left for the family at www.sturmfh.com.
Lorraine is survived by her children: Janet (Clete) Zinniel of Sleepy Eye, Donna (Johnny) Starcher of Amarillo, TX, Patrick (Dianne) Harkin of Sleepy Eye, Judie (Cary) Goergen of Alexandria, MN, Diane Aguilar of Amarillo, TX and Pearl (Ed) Schottenbauer of Sleepy Eye, 15 grandchildren, 30 great-grandchildren and 1 great-great-grandchild, 1 brother, 1 sister-in-law and 1 brother-in-law. She was preceded in death by her parents: her husband, Dixon who died in 2016, 1 grandson, 3 sisters and 4 brothers, 4 Brother-in-laws and 7 Sister-in-laws. Lorraine Magdeline Harkin was born February 18, 1930 in Morgan to John and Christine (Koll) Welter. She attended grade school and high school in Morgan, MN. During high school she worked for the telephone company in Morgan. On June 25, 1949, Lorraine was united in marriage to Dixon James Harkin at St. Michael's Catholic Church in Morgan. They were blessed with six healthy children. Together with her husband they farmed north of Clements. In their retirement years on the farm they were well known for their locally grown asparagus. In 2007 they moved to Ross Park apartments in Sleepy Eye. Lorraine was a dedicated farmwife/housewife, a devoted mother, restaurant cook and commercial sewist working for Morgan Industries, Inc. She belonged to St. Joseph's Catholic Church in Clements and was an active member of the Christian Mothers and a member of the church choir. She was a member of the American Legion Auxiliary, County Extension Group and Ladies Bowling League. She loved to work with her hands and enjoyed sewing for her family. She enjoyed entertaining, hosting home parties and making crafts. Gardening and canning fulfilled her summers. Occasional camping and fishing was enjoyed in her later years. As a couple, they belonged to a neighborhood card club and enjoyed playing sheephead. What brought her the greatest joy in life was entertaining and organizing family gatherings. Having extended family come to stay a night or two was a common, highly enjoyed event. She gave her all for her family and will truly be missed.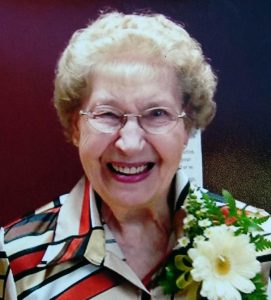 Share this article