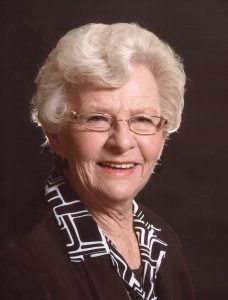 Glorianne June Lenz, age 89, of Renville, died Friday, January 12, 2018, at her home in Renville, Minnesota. Funeral services will be 11:00 a.m. Tuesday, January 16, 2018, at St. John's Lutheran Church in Renville. The Rev. Rick Tuttle will officiate. Burial will be in Fairview Cemetery in Renville. Visitation will be Monday from 5-7 p.m. and will continue on Tuesday one hour prior to the services all at the church in Renville. Arrangements are with Dirks-Blem Funeral Service, Renville, MN.
Glorianne June Lenz was born on June 14, 1928, in Olivia, Minnesota to John and Berdie (Minkel) Decker. She grew up in Olivia and graduated from Olivia High School in 1946. Gloria was united in marriage to Adrian Lenz on April 23, 1950, at St. John's Lutheran Church in Renville. They made their home in Renville and Gloria worked at the grocery store for many years. She worked for several owner's over the years, with Maynard's being the last, retiring in 2007. She was a member of St. John's Lutheran Church and was active in the Ladies Aide. She was also a member of the Renville American Legion Auxiliary. She enjoyed playing golf, sewing and knitting-over the years she made many quilts for Quilts for Kids. She also enjoyed spending time at the lake, spending time with her grandchildren, and she loved having company and visiting with her friends.
Survivors include her daughter and son: Judy (and fiancée Mark Rew) Larson of Svea, Ron (and Lois) Lenz of Renville; her five grandchildren: Carey, Christy, Tom, Amy, and Josh; her nine great grandchildren: Tucker, Ty, Oliver, Levi, Bianca, Dre, Stella, Sierra, and Macie; her sister-in-law Alice Decker; and other relatives and friends. She was preceded in death by her parents, her husband Adrian, and her brothers Donald, Bob, and John, Jr.
Dirks-Blem Funeral Service, Renville, MN
320-329-3555 www.dirksblem.com
Share this article