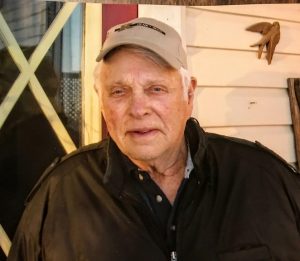 Donald Orville Dambroten, age 87 of Granite Falls, died Saturday, January 13, at the Granite Falls Hospital in Granite Falls.
A Memorial Service will be held 1:00 PM Saturday, February 10, at the Rock Valle Lutheran Church, rural Echo.  Visitation will be from 11:00 am until 1:00 PM at the church on the day of the service.  Interment will be this spring in April at the Hawk Creek Lutheran Cemetery, rural Sacred Heart, MN.
The family requests that memorials be given in lieu of flowers to either the American Cancer Society or the Hawk Creek Lutheran Church building fund.  The Sunset Funeral & Cremation Association is caring for the family.
Donald Orville Dambroten was born March 1, 1930 to Andrew and Pearl (Chelin) Dambroten in Granite Falls, MN.  He was baptized and confirmed at Hawk Creek Lutheran Church and attended Granite Falls Public Schools, graduating from Granite Falls High School in 1949.  While in high school, Don received an award from the State of Minnesota FFA and was a member of the undefeated 1948 football team.  As a young man, Donald remained on the family farm.
On August 19, 1956 Donald married Lola Mae Reiten in Granite Falls and they made their home on the family farm that his grandfather homesteaded in 1871, which became a Century Farm in 1971.  He will be remembered for his love of family, the farm and his community. Don continued to farm until his retirement in 2010.
He was a life-long member of the Hawk Creek Lutheran Church, located near Sacred Heart, MN, where he served as a church board member, President of the Congregation and on the Cemetery board.  He was a past member of the Sons of Norway, a member of the MN Valley Antique Farm Power & Machinery Association, a charter member of the SW MN Beet Sugar Cooperative, served on the Wang Township Board, and the MN Falls and Granite Falls Elevator boards.
His hobbies and interests included all aspects of the farm, antique tractors and threshers, and traveling with his wife, especially his trip to Sweden.
After his wife's death in 2013, Don remained on the farm, where he spent his whole life, until his recent health made him a patient of Granite Falls Hospital where he died, Saturday, January 13, 2018 at the age of 87.
Don is survived by his three sons, Dean (Doris Ommodt) Dambroten of Sacred Heart, MN, Gregg Dambroten of Granite Falls, MN and James (Ginny) Dambroten of Sacred Heart, MN; his one daughter, Ann (Michael) Callies of Shakopee, MN; eleven grandchildren, Ryan, Kayla (Chris), Joe (Brooke), Levi (Leighann), Cole (McKenzie), Dylan (Lizzy), Justine (Tony), Taylor, Emma (Yahir), Ethan (Grace), and Lydia; 12 great grandchildren; two Brothers-in-law, Wayne (Lois) Reiten of Wood Lake, MN and Harry (Marti) Reiten of Svea, MN; one sister-in-law, Joyce (Mark) Bigaouette of Granite Falls, MN; three First Cousins, Paul (Liz) Lanning of Sacred Heart, MN, Roger (Laura Lee) Gniffke of St. Louis Park, MN and Janet Gniffke of Granite Falls, MN; nieces, nephews and many friends.
Preceding Don in death was his wife, Lola, his parents, one brother, Verne, one brother-in-law, Odell (Mary) Reiten and one sister-in-law, Ellen Bengtson,.
Share this article