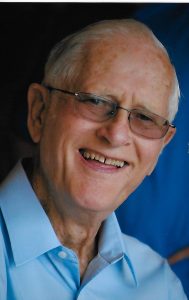 Delton Evermann, age 89, of Olivia died Saturday, January 13, 2018 at RC Hospital in Olivia, surrounded by his loving family. A memorial service will be held Thursday, January 18th at 2:00 p.m. at Faith United Methodist Church in Olivia with Rev. Yong Ok Son officiating. Burial will be in the Olivia Cemetery. Visitation is Thursday at the church from 12:30 to 2:00 p.m. Arrangements are with Dirks-Blem Funeral Service of Olivia. Memorials are preferred to Renville County Hospice.
Delton James Evermann was born August 26, 1928 at Annandale, MN, to Fred and Ruth (Hanson) Evermann. When he was a child his family moved to Olivia. Del graduated from Olivia High School in 1946 where he had excelled in basketball, football, and baseball. He worked in Chicago for a year and then attended Hamline University. Del returned to Olivia where he was employed as an engineer with Renville County Highway Department for 43 years retiring in 1991. Del married Mariel Abraham on August 13, 1950 at the EUB Church in Olivia and they were blessed with three sons, Joel, Mark, and Dave. Del and Mariel made their home in Olivia and now reside at Parkview Village since August of 2016. Del was an active and faithful member of Faith United Methodist Church in Olivia. He was a regular participant at Red Cross Blood Drives having donated many gallons over the years. He had enjoyed playing Olivia Town Team Baseball in earlier years, as well as fishing, hunting, yard work, gardening, walking, traveling, and doing crossword and jigsaw puzzles. Del especially enjoyed spending time with his family and he truly lived "life" to the very end.
Del is survived by his wife Mariel; his sons: Joel (and Mary) Evermann of Hastings, Mark (and Barbara) Evermann of Olivia, and David (and Patricia) Evermann of Spicer; his three grandchildren: Jennifer (and Forrest) Glines of Rogers, Abigail (and Mitchell) Glines of Maple Grove, and Lindsey (and Patrick) Glines of Hanover; his step-granddaughter Laura Dougherty and special friend Jacob Hatfield of Spicer; his great-grandchildren: Olivia Glines and Paige Glines of Rogers, Cooper Glines and Levi Glines of Maple Grove, and Peyton Glines and Beckett Glines of Hanover; his sisters-in-law: Lorraine Evermann of Becker, Carol Boehlke of Shell Lake, WI, and Deloris Abraham of Savage; his brother-in-law Bruce LeVahn of Golden Valley; and many nieces, nephews and other relatives and friends. Del was preceded in death by his parents; his brothers Fred Evermann, Jr. and Duane Evermann; his brothers-in-law: Roland Abraham, Lyndon Abraham, and Rodney Boehlke; and his sisters-in-law Noreen LeVahn and Marie Abraham.
Blessed Be His Memory
Dirks-Blem Funeral Service, Olivia, MN
(320) 523-1102 dirksblem.com
Share this article