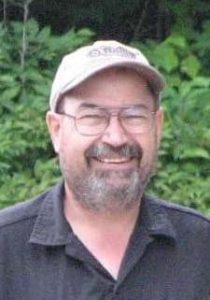 Lynn Soukup age 62, of Sleepy Eye, MN died on Wednesday, January 10, at the New Ulm Medical Center.
Visitation will be on Friday from 4- 7 pm and will continue on Saturday from 7:30 to 10:30 am at the Sturm Funeral Home, Sleepy Eye.
Mass of Christian Burial will be held at the St. Mary's Catholic Church, Sleepy Eye, on Saturday, January 13, at 11:00 am.
The clergy will be Msgr. Eugene Lozinski.
Interment will be at the St. Mary's Catholic Cemetery in Sleepy Eye.
Arrangements are with the Sturm Funeral Home in Sleepy Eye.
On line condolences may be left for the family at www.sturmfh.com.
In lieu of flowers, memorials are preferred to: The Richard M. Schulze Family American Cancer Society Hope Lodge 2500 University Ave SE Minneapolis, MN 55414
Lynn Thomas Soukup was born on June 10, 1955 to Clarence and Myra (Zwach) Soukup in Sleepy Eye, MN. He was a graduate of St. Mary's High School in 1973. Lynn was employed at 3M in October of 1973 and maintained his employment there for the next 44 years. He was very dedicated to his work as a maintenance technician at 3M and his many years of service to 3M. Lynn very much enjoyed being in the outdoors in his free time, hunting deer, fishing and spending time on the farm. Lynn was truly a "farm kid who was forced to live in town". He also enjoyed playing checkers with friends and spending time with his family. Lynn will be remembered as a loving and devoted father and brother.
Lynn is survived by his children, Nicole (Steven Attridge) Soukup of Minneapolis, Ryan (Lauren) Soukup of St. Paul, Sara (Sam Moudry) Soukup and Jenna Soukup both of Minneapolis; siblings, Douglas (Shirley) of Palmdale, CA, Stephen (Beverly) of New Ulm, Bernard of Sleepy Eye, Ronald (Donna) of Courtland, Bonnie (Larry) Beckler of Bird Island, Michael (Jane) of New Ulm, Laurie (Ralph) Bemmels of Fairfax, Larry (special friend Mary Jo Blickem) of Sleepy Eye, James (Sandi) of Sleepy Eye, Charles of Sleepy Eye & Lisa (special friend Anne Manning) of Austin, TX; sister-in-law, Dawn Soukup of San Mateo, CA along with many nieces and nephews. He was preceded in death by his brother, Lance Soukup; parents, Clarence and Myra Soukup; grandparents and several aunts and uncles. He loved them all.
Share this article