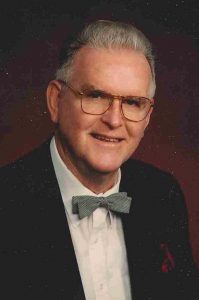 Dr. Francis J. Boyle, age 91, of Springfield, died on December 6, at St. John Lutheran Home in Springfield.
Visitation will be on Monday, December 11, from 4:00 pm to 8:00 pm at the Sturm Funeral Home in Springfield and will continue on Tuesday from 9:00 am until 10:30 am at the church.
A Parish Prayer Service will be held on Monday at 4:00 pm at the funeral home.
Mass of Christian Burial will be held at the St. Raphael's Catholic Church in Springfield on Tuesday, December 12, at 10:30 am.
The clergy will be Father Stephen Boyle and Father Phil Schotzko. Interment will be at the St. Raphael's Catholic Cemetery in Springfield, Minnesota.
Arrangements are with the Sturm Funeral Home in Springfield, Minnesota. On line condolences may be left for the family at www.sturmfh.com.
Memorials are preferred to the donor's choice.
Dr. Francis J. Boyle, Jr. was born on October 1, 1926, to Francis J. and Marguerite (Morris) in Detroit, Michigan. He graduated from De La Salle High School in Michigan and then served in the Navy during World War II in the medical corp. Frank earned his Bachelor of Science degree from St. Mary's College in Winona, MN. He then continued his education at the University of North Dakota and completed his doctorate at Creighton University Medical School. After his internship at St. John's Hospital in Detroit, MI, Frank practiced in Tracy, MN, and then in 1958 started his practice in Springfield, MN. During his time in Springfield, Dr. Boyle served as the Medical Director at St. John Lutheran Home and also was prominent in the development and transition of the Mayo Hospital in Springfield. In 1995, Frank retired from his medical practice. While at St. Mary's College, Frank met Glenna Gervais, who was attending the College of St. Teresa in Winona. The couple was married on November 22, 1951 in Currie, MN. He was a member of St. Raphael's Catholic Church, the Rotary, and Knights of Columbus. Frank enjoyed baseball as a younger man and managed both the Tracy and Springfield town teams. He also enjoyed golfing, playing bridge, watching sports especially the Springfield Tigers, and family time at the cottage at Lake Shetek. Frank was very proud of his Catholic faith, Irish heritage, and his family.
He is survived by his wife Glenna of Springfield; children – Francis (Beth) of Minneapolis, MN, Philip (Kris) of St. Cloud, MN, Patrick (Ellen) of Norfolk, NE, Michael (Becky) of New Ulm, MN, Anne (Jack) Kennefick of Edina, MN, Fr. Stephen Boyle, O. Praem. of Rome, Italy, Jane (Brad) Bechtold of Sauk Rapids, MN, Jeanne (Jim) Gathje of Bloomington, MN; 25 grandchildren and 15 great grandchildren; and siblings – Thomas Boyle of California and Peggy Brannigan of Michigan. Frank was preceded in death by his parents; siblings – Catherine Colby, Mary Weiss, Eugene Boyle, and John Boyle.
A special Thank You to Dr. Jennifer White and the Staff at St. John Lutheran Home for their care.
Share this article