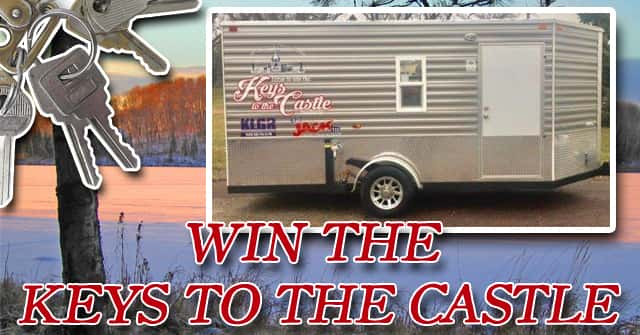 This winter, we are giving away another Ice Castle Fish House with our Keys to the Castle giveaway! Keys to the Castle is sponsored by Backroads Bar, City and Country Tavern, Duffy's Riverside Saloon, Freedom Bar and Grill, H & L Motors in Renville, Koerners Korner, Liquor Lodge, Max's Bar and Grill, NAPA Auto Parts Store in Redwood Falls, Pro Equipment Sales in Olivia, Redwood Falls Golf Club, Redwood Tire Service, and VFW in Redwood Falls.
---
Finale Event
Monday, February 12: Redwood Falls American Legion. If you haven't qualified yet, you will have two separate chances to get qualified for the giveaway Monday at the Legion:
1.) Visit the Legion between 3:00 and 5:00 p.m. to put your entry in the registration box. We will draw 2 qualifiers at 5:00 and empty the box.
2.) Then, between 5:00 and 6:45 p.m., you can enter to be drawn as a last-chance qualifier. Also during that time, the American Legion will be serving pulled pork sandwiches for just $5. Then, at 7:00, we'll play BARGO to determine the winner of the Ice Castle Fish House and other prizes.
---
Share this article