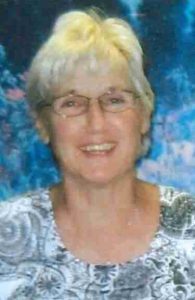 Diane (Marti) Hemmeter, age 71, of Lino Lakes, formerly of Sleepy Eye died on December 2, at her home.
Visitation will be on Friday from 4 to 7 pm at the Sturm Funeral Home, Sleepy Eye and will continue on Saturday from 10 until 11am at the church.
Service will be held at the St. Mary's Catholic Church, Sleepy Eye, on Saturday, December 9, at 11:00 am.
The clergy will be Father Andy Michels.
Interment will be at the Marti Family Cemetery in rural Sleepy Eye following the luncheon.
Arrangements are with the Sturm Funeral Home in Sleepy Eye.
On line condolences may be left for the family at www.sturmfh.com.
Diane was born on June 8, 1946 in Sleepy Eye, MN the daughter of Victor & Gertrude (Hauser) Marti. She grew up in Sleepy Eye and graduated from St. Mary's High School. She married George Hemmeter and they had two sons, Scott and Todd. They raised their family on a small farm near McGrath, MN. Diane loved the outdoors, embracing anything she could outside. Diane spent her entire life putting her loved ones first. She operated a restaurant/gas station for many years. Diane retired in Lino Lakes where she played a large role in the lives of her children and grandchildren. She was a spiritual person and influenced that onto her children and grandchildren.
Diane is survived by her sons, Todd of St. Francis, MN, and Scott of Lino Lakes, MN, grandchildren, Ashlyn, Nickolas, Emilee, Briaana & Courtney, great-grandson, Mason, siblings, Monica Warwick of Sleepy Eye, Janet Jenniges of Finlayson, MN, Frank Marti of Sleepy Eye, Karen Deopere of New Ulm, MN, Ronald (Marlene) Marti of New Ulm, Anita (John) Hemmeter of Finlayson, Steven Marti of Sleepy Eye, Paul (LuAnn) Marti of New Ulm, Mary (Mark) Haller of Brookings, OR, Robert (Kathy Jo) Marti of Sleepy Eye, Julie (Richard) Sindelir of Morton, MN, Beverly (Dan) Kadlec of McGrath, MN, 36 nieces and nephews. She was preceded in death by her parents, sister-in-law, Karen Marti, brothers-in-law, Norman Warwick, Mathias Jenniges & Dennis Deopere.
Share this article