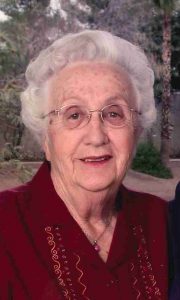 Carole J. Berkner, age 96, of Sleepy Eye, died on December 1, at the Sleepy Eye Care Center in Sleepy Eye.
Private family services will be held at a later date.
Online condolences may be left at www.sturmfh.com
Funeral arrangements are with Sturm Funeral Home in Sleepy Eye.
Carole Jane Berkner was born October 19, 1921 to parents Edward and Vera (Nagel) Larson in St. Paul, MN. Carole grew up in New Ulm, MN where she graduated from New Ulm High School in 1939.
On October 2, 1942 she was united in marriage to James D. Berkner in New Ulm. The couple made their home in Sleepy Eye, farming South of Del Monte until retirement in 1980. They wintered in Mesa, AZ for over 30 years. They enjoyed traveling. Carole was a member of the Eastern Star and a member of the former Union Congregational Church in Sleepy Eye.
Carole was preceded in death by her husband of 65 years, Jim, her parents, sister-in-law, Mary Kay Granath and sisters, Betsy Crumrine and Evelyn Fehlhaber. She is survived by sons, James F. and Dorothy of Bastrop, TX, and Brad and LeAnn of Sleepy Eye, five grandchildren, nine great grandchildren and three great great grandchildren.
Share this article