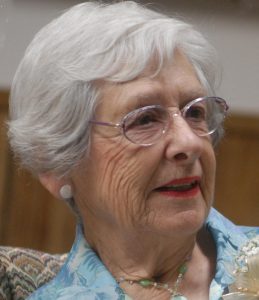 Elizabeth "Bubs" Stancer, 98, of Redwood Falls, passed away on Thursday, November 30, at Seasons Hospice in Redwood Falls.  Services will be 11:00 AM on Saturday, December 9, at the First Presbyterian Church in Redwood Falls with visitation one hour prior to the service.  Interment will be in the Morton City Cemetery.  The Sunset Funeral & Cremation Association is caring for the family.
Elizabeth Mae Stancer was born on May 9, 1919 to Donald and Irma (Mace) Smith in Redwood Falls, Minnesota.  She was baptized and confirmed in the Christian faith and graduated from Redwood Falls High School.
On June 14, 1937, Bubs was united in marriage to Lao Stancer in Brookings, South Dakota. They made their home in Redwood Falls until moving to the west coast in 1945 but returning again to Redwood Falls a year later.  Bubs worked as a floral designer for the Redwood Falls Greenhouse and as a bookkeeper for the Redwood Falls Bank and High School.  She was a lifelong member and oldest living member of the First Presbyterian Church in Redwood Falls.  She was an elder of the church and active with the ladies aid, quilters and funeral committee.  Bubs enjoyed painting, riding on a motorcycle with Lao, traveling, quilting, gardening, canning, sewing, hiking thru Ramsey Park and spending time with friends and family.
On Thursday, November 30, 2017, Elizabeth passed away at Seasons Hospice House in Redwood Falls, Minnesota at the age of 98.
She is survived by her children Beverlee (Robert) Smiley of Edina and Robert (Eloise) Stancer of Plymouth; 3 grandchildren Dr. JT (Christine) Smiley, Chad (Regan) Stancer and Nicole (Brendan) Bush; 4 great grandchildren; and sister Dorothy Menk.
She was preceded in death by her husband Lao, parents, three sisters Helen Schroeder, Irma Panitzke and Genevive Sowder and three brothers Erwin, Andrew and John Smith.
Blessed be her memory.
Share this article