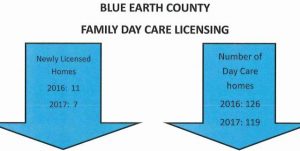 One of the main priorities of the new Redwood County Development Authority is finding ways to find new child care providers in the county, especially for infants and toddlers.
According to coordinator Briana Mumme, the number of child care providers in Redwood County has been nearly cut in half since 2013.
However, it's not just a Redwood County problem. In Blue Earth County, the number of licensed day care homes has fallen by more than 5% in the last year, dropping from 126 to 119. In addition, there have only been seven new homes licensed this year, compared to 11 in 2016.
Providers in the Mankato area have noted that there are a multitude of reasons why the numbers continue to drop, including low pay and burdensome licensing requirements and state regulations.
Statewide, there's been a 27% decrease in the number of licensed in-home family child care providers over the last decade, leading the Mankato-based Center for Rural Policy and Development to call the shortage "a quiet crisis."
(This story contains information from Southern Minnesota News.)
Share this article