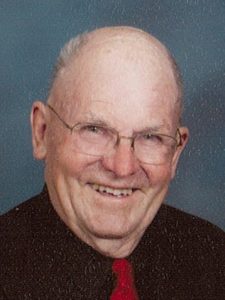 Ernest "Ernie" Frederiksen, 90, of Redwood Falls died Wednesday, November 29, 2017 at Season's hospice in Redwood Falls. Memorial services will be held at 11 a.m. on Monday, December 4, 2017 from Gloria Dei Lutheran Church in Redwood Falls. Inurnment will be held at a later date in the Redwood Falls Cemetery. Visitation will be held Sunday, December 3, 2017, from 4 until 6 p.m., at Nelson-Hillestad Funeral Home in Redwood Falls and will continue on Monday, at the church, from 10 until 11 a.m.
The family requests memorials be made to the charity of the donor's choice.
Arrangements are with Nelson-Hillestad Funeral and Cremation Service of Redwood Falls. E-mail condolences may be sent via www.nelson-hillestad.com.
Ernest "Ernie" Frederiksen, the son of Carl and Elizabeth Frederiksen, was born August 24, 1927 in a house near Morton.
On August 28, 1953, Ernie married Ellen Rockwell. He lived in many places growing up but after marriage he and Ellen moved into the same house he would live in until just a few weeks ago. Ernie battled cancer for a little over a year; by November 3 he had become too weak to stay at home and needed to live at Seasons hospice house.
Ernie worked for the Redwood County Telephone Company for 42 years. After retirement he enjoyed going to Florida in the winter to visit his son, David and family and going to see Kirby Puckett and the Twins at Spring Training. Back at home he enjoyed woodworking.  Ernie made candle holders for the church and crosses for the ill and dying, and also made names for people out of wood. He was a very talented woodworker. Ernie enjoyed volunteering. While his kids were young he volunteered with Weeblos and then after retirement at the Senior Center. He was named Redwood County Senior Citizen in 2003.  Ernie also enjoyed gardening and sharing his crops with his friends and neighbors. Metal detecting was another one of his favorite past times and he loved watching Jeff Gordon race. Ernie also loved riding his scooter with his son Tim or friend Brenda. He loved visiting with people. Ernie knew many people in the area and was a friend to everyone he met.
Ernie was a member of the Fraternal Order of Eagles and Sons of American Legion. He was also in the Color Guard and was a member of the National Guard. Ernie was a patriot and loved flying his flag every day.
Ernie is survived by his wife Ellen; sons Dave (special friend Ruth), and Tim (Melanie); grandchildren John, Justin, Shawn, Lynetta and Carley; great grandsons Hunter, Wylee, Alex, Eli, and two more great-grandchildren in 2018; many cousins; a niece and nephews; and his friend-like-a-daughter Brenda Vick. He was preceded in death by his father Carl, mother Elizabeth Larson, great-grandson Caleb Frederiksen, sister Evelyn Okins, brother-in-law Don Okins, and nephew Larry Okins.
Share this article