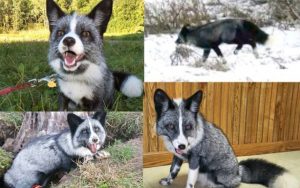 The nearly year-long search for a missing pet fox is now focused right smack dab in the middle of Mankato.
According to information from owner Mikayla Raines Monday night, Notchi was spotted in the middle of Madison Avenue. Raines says the sighting came from a very reliable source and "when shown a picture of Notchi's nearly identical twin, she was 100% sure it was him."
Notchi has been missing since January 1st, after disappearing from his home in Lakeville, where he had lived since Raines rescued him from a fur farm as a baby.
Since he disappeared, Notchi's been spotted by dozens of people in places across southern Minnesota, including Mankato, Wells, Mapleton, Faribault, Owatonna, Waseca and Pemberton.
Anyone who may see Notchi is asked to not approach him, but instead, take a photo of the animal and immediately call 612-961-6366.
A $1,000 reward is being offered.
(Copyright © 2017 Southern Minnesota News – Alpha Media Mankato. All rights reserved. This material may not be published, broadcast, rewritten or redistributed.)
http://www.southernminnesotanews.com/
Share this article