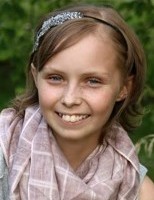 McKenya Egge, age 14, of Bird Island passed away at the University of Minnesota Children's Hospital in Minneapolis on Wednesday, November 15, surrounded by the love of her family, after a courageous battle with Ewings Sarcoma and Leukemia.
Visitation will be Sunday, November 19th from 3-7 p.m. at McKenya's home church, Our Savior's Lutheran Church in Bird Island.  Funeral services will be Monday, November 20th at 1:30 p.m. at St. Mary's Catholic Church in Bird Island. Pastor Mandy France of Our Savior's Lutheran Church will officiate. Also, on Monday there will be a visitation for one hour prior to the funeral at St. Mary's Catholic Church. A private family burial will follow the funeral at Peace Lutheran Cemetery in Cosmos.
In lieu of flowers memorials are preferred and the family will use them to honor McKenya's life. Arrangements are with Dirks-Blem Funeral Service in Olivia.
McKenya Marie Egge was born April 27, 2003 at Olivia, MN, to Nathaniel "George" Doty and Britany Egge. She grew up in Bird Island and was currently a 9th grader at BOLD Schools. When she was healthy she enjoyed volleyball, baseball, bike riding, and many outdoor activities. McKenya had enjoyed doing babysitting this past summer, going to amusement parks, swimming, watching movies, playing games with her siblings, and cherished beinging at her own home. She loved the color green, her Goldendoodle Sophia Grace, and spending time with friends, especially those who stood with her throughout her sickness journey. No matter how much pain she was in there was always a smile on her face. McKenya will certainly be remembered for her spunk and sassiness!
McKenya is survived by her parents: George Doty and Britany Egge; her brother Keghan; her sister Mea; her brother Matthew; her grandparents: Carmen (and Dave) Kienholz, Tami Egge, Curtis Erickson, Jane Spaulding, and Perry Heck; her great-grandparents: Bev Jenkins and Greg and Liz Melges; her aunts and uncles: Brooke (and Mitch) Libby, Jaden Huebsch, Nick Doty, Rachelle Melges, Chass (and Ross) Wittman, Daniel Heck, Tanner Doty, and Zach Doty; and many cousins and other relatives.  McKenya was preceded in death by her grandfather Ken Doty; and her great-grandfather Dennis Jenkins.
Blessed Be Her Memory
Dirks-Blem Funeral Service, Olivia, MN
(320) 523-1102    www.dirksblem.com
Share this article