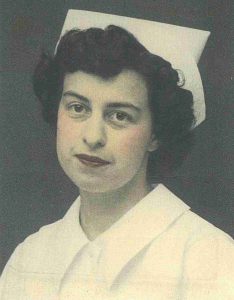 LaDonna Mae Mathiowetz, age 84, of Comfrey, died on Thursday, November 16, at Sleepy Eye Care Center in Sleepy Eye.
Visitation will be on Sunday, November 19, from 2:00 pm to 5:00 pm at the Sturm Funeral Home, Comfrey Chapel and will continue on Monday from 9:30 am until 10:30 am at the St. Paul's Catholic Church in Comfrey.
There will be a Parish Prayer Service on Sunday at 4:30 PM at the Sturm Funeral Home in Comfrey.
Mass of Christian Burial will be held at the St. Paul's Catholic Church in Comfrey on Monday at 10:30 am.
The clergy will be Msgr. Eugene Lozinski. Interment will be at the St. Paul Catholic Cemetery in Comfrey.
Arrangements are with the Sturm Funeral Home in Springfield, MN. On line condolences may be left for the family at www.sturmfh.com.
LaDonna Mae Mathiowetz was born March 31, 1933, to Anthony and Brigetta (Soukup) Schroepfer on the family farm in Albin Township, Brown County, MN. She attended and graduated from St. Mary's Catholic School in 1951 as the valedictorian. LaDonna then attended St. Joseph's School of Nursing in Mankato, MN. She worked as a LPN in the OB department at the Loretto Hospital until 1955. On September 28, 1953, she was united in marriage to Alphonse Mathiowetz at St. Mary's Catholic Church in Sleepy Eye. September of 1955, when Alphonse was discharged from the army, the couple moved to a farm in Mulligan Township where they raised their 4 children – Joan, John, Joel, and Julie. LaDonna worked at the Comfrey Hospital and at the Good Samaritan nursing home in Mountain Lake and retired in 2003. On August 16, 2012, she entered the Sleepy Eye Care Center where she was the resident of the month in 2016. She enjoyed reading and volunteering. Over the years LaDonna was active in the Legion Auxiliary, 4-H, band mothers, and St. Paul's Catholic Church where she taught CCD for 17 years, was a Rosary leader, Eucharistic Minister, and Lay Presider. She was also a member of the Catholic Aid and Christian Mothers.
She is survived by her husband Alphonse Mathiowetz of Comfrey; children – John (Cheryl) Mathiowetz of New Ulm, Joel (Terri) Mathiowetz of Comfrey, Julie (Corey) Schmid of Sauk Rapids; 6 grandchildren – Christopher (special friend Anne), Emily (special friend Eric), Rachel (Nick) Wagner, Anthony (Becca) Mathiowetz, Annataya (special friend Johnny), and Kirby Schmid; great grandson Jasper Wagner; siblings – Theresia (Ernest) Kretsch, Sylvia Braun, Robert (Linda) Schroepfer, Richard (Linda) Schroepfer, Kathleen (Rick) Marcus, Anthony Jr. (Shirley) Schroepfer; and brother-in-law Dave Jensen. LaDonna was preceded in death by her parents; daughter Joan Mathiowetz; sister Barbara Jensen; brother-in-law Melvin Braun; and niece Tina Marcus.
Share this article