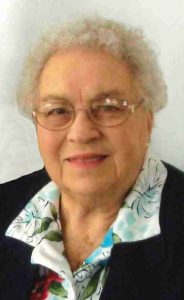 Elna Elvira Dammann age 82, of Sanborn, MN died on November 11, at Mayo Clinic Health System in Springfield.

Visitation will be on Friday, November 17, from 4:00 pm to 7:00 pm at the Sturm Funeral Home, Springfield Chapel and will continue on Saturday from 9:30 am until 10:30 am at the Chapel of the Good Shepherd, St. John Lutheran Home in Springfield.

Service will be held at the Chapel of the Good Shepherd at St. John Lutheran Home on Saturday at 10:30 am.

The clergy will be Chaplain Noel Wetter. Interment will be at the Sanborn City Cemetery.

Arrangements are with the Sturm Funeral Home in Springfield, MN. On line condolences may be left for the family at www.sturmfh.com.

Elna Dammann was born on December 12, 1934, to Walter and Dulcie (McManigal) Giersdorf on a farm near Witten, SD. When she was almost 3, the family moved to a farm south of Lamberton where she attended and graduated from Lamberton School with the class of 1952. When she was 16, she met Elden Dammann and was united in marriage to him after he returned from the service on December 8, 1953, at the Sanborn United Methodist Church. After marriage, Elna became a member of the church and was baptized and confirmed. The couple farmed and raised their children – son Bradley and daughter Brenda north of Sanborn. Elna enjoyed playing cards, fishing, dancing, traveling, and spending time with her family. She was a member of the Sanborn American Legion Auxiliary and Sanborn United Methodist Church.

She is survived by her husband Elden; daughter Brenda Anderson of Springfield; daughter-in-law Marilyn Dammann of Duluth, MN; grandchildren and great grandchildren – Wain (Amanda) and their children Alora, Aria, and Abrina Dammann, Jeremy Dammann, Kristi (Josh) and their children Rylynn, Lily, and Jaxson Wagner, Jason Damann, Kayla (John) Marnati, Paul Anderson, Terry (Meghan) and their son Asher Anderson, and Wade (Whitney) Anderson; sisters – Velma Van Dorsten of St. Peter, and Jane Schoer of Coon Rapids. Elna is preceded in death by her parents; son – Bradley Dammann; son-in-law Arthur Anderson; sisters – Twyla Giersdorf and Audrey Wilson; brothers – Leonard, Odem, Lyle, Floyd, Lloyd, Donald and Lowel Giersdorf.
Share this article