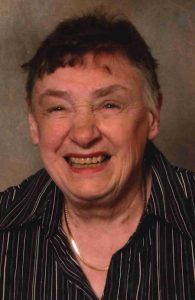 Arlene M. Hale age 88, of Mankato, formerly of Sleepy Eye died on November 10, at REM Home in Mankato.

Visitation will be on Thursday, November 16, from 12:00 pm to 1:00 pm at the Sturm Funeral Home, Sleepy Eye.

Private Graveside Service will be held at the Morgan Cemetery, on Thursday, November 16.

Arrangements are with the Sturm Funeral Home in Sleepy Eye.

Email condolences may be sent at www.sturmfh.com

Arlene Mae Hale was born on February 5, 1929 in Eden Township to Edward & Belle (Kuelbs) Hale. Arlene attended country school in District #34 through the 8th grade. She worked at MRCI in New Ulm and after her mother's passing Arlene moved to REM-Mankato to live. In Mankato she worked at Mexican Village and MRCI. Arlene was loved by family and Staff at REM. Arlene loved to sing country western songs.

She is survived by her brother, Donald E. (Velma A.) Hale, nephew, Lee Hale & (special friend, Ann Iverson), niece, Lisa (Allen) Riederer,1 great-niece and 3 great-nephews. She was preceded in death by her parents and infant niece, Lori Hale.
Share this article