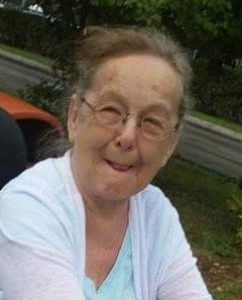 Marjorie Ellen Mullery, 76, of Echo, passed away on Saturday, November 4, at the Methodist Hospital in St. Louis Park.  A visitation will be held for Marjorie from 1 – 3 PM on Wednesday, November 8, at the Sunset Funeral Home in Echo with a prayer service at 3:00 PM.  Interment will be in the Cordova Cemetery in Cordova, IL at a later date.  The Sunset Funeral & Cremation Association is caring for the family.
Marjorie Ellen Mullery was born on January 1, 1941 to Samuel and Greeta (Ewing) Mayhew in Moline, Illinois.  She graduated from United Township High School in East Moline, Illinois.
On December 1, 1961, Marjorie was united in marriage to Robert Mullery at the First Baptist Church in Cordova, Illinois.  They made their home in Cordova where they raised their three daughters.  Marjorie enjoyed dancing, playing cards, traveling to see family and spending time with her grandchildren and great grandchildren.
On Saturday, November 4, 2017, Marjorie passed away at the Methodist Hospital in St. Louis Park, Minnesota at the age of 76.
She is survived by her three daughters Donna Ross of Cordova, IL, Daneen (Tim) Dhoore of Echo and Vicky (Wes) Johnson of Morton; grandchildren Bryan Nielsen, Greg Nielsen, Kearstra Panitzke, Patrick Nielsen, Andrew Phelps, Benjamin Taylor, Jeremy Mullery, Jessica Lemke, Paul Dhoore and Samantha Dhoore; 21 great grandchildren; sister Linda Waller; and several nieces, nephews and cousins.
She was preceded in death by her ex-husband Robert, parents, one daughter Misty Mullery, brother Edmond Mayhew and significant other Jay Fitch.
Blessed be her memory.
Share this article