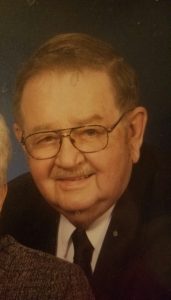 Delbourne "Del" Bernhard Yeschick, age 83, of Renville, died Saturday, November 4, at Abbott Northwestern Hospital in Minneapolis .  Funeral services will be 3:00 p.m. on Tuesday, November 7, at First Lutheran Church in Renville.   The Rev. Steve Cook will officiate.  Burial will be in Fort Snelling National Cemetery in Minneapolis.  Visitation will be Monday from 5-7 p.m. at the Dirks-Blem Funeral Home in Renville.  Visitation will continue on Tuesday one hour prior to the services at the church in Renville.
Delbourne Bernhard Yeschick was born on April 23, 1934, in Renville, Minnesota to Ben and Clara (Strey) Yeschick.  He grew up in Renville and attended school here.  After his schooling, Del joined the United States Air Force and served his country for 20 years.  During this time, he was stationed in multiple locations around the world, and also served three tours in Vietnam.  He was discharged from the Airforce with the rank of Senior Master Sergeant.  Del was united in marriage to Jean Plaskewicz on October 18, 1958, in Saginaw, Michigan.  Del and Jean lived in many locations while Del continued to serve his country.   Following his service, Del and Jean moved to Renville and Del worked as a yard foreman for Southern Minnesota Beet Sugar Co-op for 25 years, retiring in 1999.  He was a member of First Lutheran Church in Renville, a member of and past post commander of the Renville American Legion, and a member of the Renville V.F.W.  Del enjoyed a good joke, fishing, and deer hunting.
He is survived by his wife Jean of Renville, his sons and daughter:  Steve (and Lynn) of Corpus Christi, TX, David (and Christine) of McKinney, TX, Bryan (and Marilyn) of Sauk Centre, MN, and Joan Billmeyer of Northfield, MN; 18 grandchildren, 14 great grandchildren, and 6 great-great grandchildren; many nieces, nephews, and other relatives and friends.  He was preceded in death by his parents, his granddaughter Emilia Keltgen, and his grandson Brent Marcus.
Dirks-Blem Funeral Service, Renville, MN
320-329-3555    www.dirksblem.com
Share this article