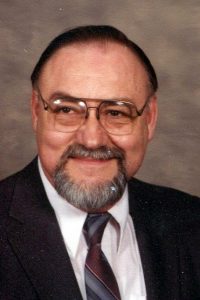 Wayne Smida, age 80, of Danube died Wednesday, November 1, 2017 at the Olivia Rehab and Healthcare Center. A memorial service will be held Tuesday, November 7th at 11:00 a.m. at St. Matthew's Evangelical Lutheran Church in Danube with Rev. Michael Kuschel officiating. Burial will be at 2:00 p.m. at Bohemian National Cemetery at Silver Lake. Visitation is Tuesday at the church for one hour prior to the funeral. Arrangements are with Dirks-Blem Funeral Service of Olivia.
Wayne Henry Smida was born November 28, 1936 at Fremont, NE, to Henry and Julia (Dostal) Smida. He graduated from Hooper High School, Hooper, NE. Wayne attended the University of Nebraska in Lincoln, NE, graduating with a degree in Psychology. He then served his country in the U.S. Army for two years. Wayne was employed as a social worker first in Carney, NE, and then in Langdon, ND, for two years. After this he lived in Illinois for most of his life and worked for IBM as a typewriter repair technician. In retirement Wayne moved to Danube to be closer to relatives. He was a member of St. Matthew's Evangelical Lutheran Church in Danube. In earlier years in Illinois he had been a member the Studebaker Club and the Sherlock Holmes Club. Wayne was very musically gifted and played the guitar, piano, harmonica, and ukulele and also belonged to a choral group and played in a band. He really enjoyed driving his Studebaker and collecting Studebaker memorabilia. In retirement years Wayne enjoyed driving around the country.
Wayne is survived by his first cousins: Elaine (and Pat) Kubesh of Olivia, Charles (and Durene) Cornell of Olivia, Gerald Hosek of Olivia, Shirley Berger of Mission, TX, Orville (and Carrie) Smida of Brooklyn Center, and Wally (and Barb) Smida of Monticello. He was preceded in death by his parents.
Share this article