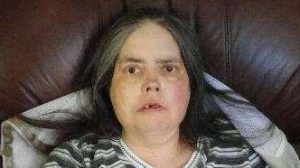 Francesca "Fran" Ann Mathiowetz, age 48, of Renville, died Wednesday, November 1, 2017, at the Sunwood Good Samaritan Home in Redwood Falls, Minnesota. Mass of Christian Burial will be 10:30 a.m. Tuesday, November 7, 2017, at Holy Redeemer Catholic Church. The Rev. Dennis Labat will be the officiant. Burial will be in Fairview Cemetery in Renville. Visitation will be one hour prior to the services at the church on Tuesday. Arrangements are with Dirks-Blem Funeral Service, Renville, MN.
Francesca Ann Mathiowetz Was born on July 20, 1969, to William and Lois (Harnack) Mathiowetz. She and her family lived in Granite Falls until she was 7 or 8 years old. They then moved to Wabasso and Fran graduated from Wabasso High School in 1987. In 1989, Fran and her family moved to Renville. Fran worked as a nurse's aide in Lafayette, Winthrop, Olivia, and most recently in Redwood Falls. She was a member of Holy Redeemer Catholic Church in Renville. She enjoyed doing needlework, listening to country music, attending plays and musicals, and her cats. She also loved spending time with her family and was very proud of her four brothers.
Fran is survived by her mother Lois of Renville, her brothers: William, Jr. (and Sherry) of Granite Falls, Samuel (and Erin) of Guttenberg, Iowa, Martin of Victoria, and Adam of Pierre, SD; six nieces and nephews, and many aunts, uncles, and other relatives and friends. She was preceded in death by her father William and her grandparents.
Share this article