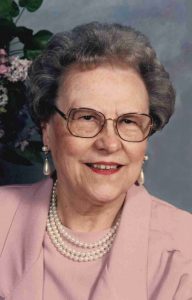 Mildred "Millie" Baker, age 92, of Sleepy Eye died on Nov. 3, 2017, at Divine Providence Community Home in Sleepy Eye.
Service will be held at the Divine Providence Community Chapel, on Tuesday, Nov. 7, 2017 at 11 a.m. The clergy will be Msgr. John Richter. Interment will be at Calvary Cemetery in Saint James.
Visitation will be on Tuesday from 9:30 to 11 a.m. at the Divine Providence Community Chapel.
Arrangements are with the Sturm Funeral Home in Sleepy Eye.
Mildred "Millie" Mary Baker was born on Aug. 11, 1925 in Albion Township to Edward J. & Mathilda (Seidl) Sellner. She grew up in Sleepy Eye and attended country school and St. Mary's Catholic School. After school she worked at AJ Pietrus & Sons Produce until her first marriage. Mildred married Vincent Smith on Jan. 17, 1950. The couple moved to St. James where she worked for S.T. Industries and retired after 41 years. Millie married Lyle E. Baker on April 13, 1963 in New Ulm. She was formerly a member of St. James Catholic Church and currently of St. Mary's Catholic Church in Sleepy Eye, the CCW, Christian Mothers and a charter member of the Eagles Auxiliary. Millie enjoyed embroidery, baking and fishing.
She is survived by her son, James (Bunny)) Smith of Sartell; granddaughters, Robin (Jeff) Rabey of Prior Lake, Bobbi Jo (Ryan) Nash of Shakopee; 5 great-grandchildren, Beau and Luke Rabey and Jackson, Carter & Taylor Nash and eight brothers & sisters. She was preceded in death by her parents, both husbands and six brothers and sisters.
Share this article