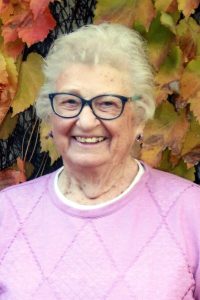 Fern Wiehr, age 89, of Danube died Thursday, November 2, 2017 at the RenVilla Nursing Home in Renville. Funeral services are Tuesday, November 7th at 11:00 a.m. at Zion United Methodist Church in Danube with Pastor Dave Draeger officiating. Burial is in the church cemetery. Visitation is at the church on Monday from 5-7 p.m. and continues there Tuesday for one hour prior to the service. Arrangements are with Dirks-Blem Funeral Service of Olivia.
Fern Lucille Wiehr was born August 21, 1928 at Aberdeen, SD, to Elmer and Mae (Elliott) Sollie. She grew up in Mina, SD and graduated from Warner High School in Warner, SD.  Fern married Clarence T. Kaven on June 20, 1951. They lived in several communities and moved to Danube in 1965. Clarence died in 1967 and she married Harold "Butch" Wiehr on January 12, 1974. Fern was employed as an agricultural secretary at the ASCS office in Olivia. She was a member of Danube Senior Citizens and her birthday club. Fern enjoyed crocheting, embroidering, fishing with her grandchildren, sneaking out to the casino to play the slot machines, playing cards,  doing word searches, and really loved taking care of her flowers. Purple was her favorite color, and she loved eating Almond Joy's, and cuddling up in her fleece blankets.  Fern especially loved being with her family.
Fern is survived by her three children: Randy (and Pennie) Kaven of Oklahoma, Connie and (Dave) Maurice of Danube, and Sharon Breitkreutz of  Princeton; her eight grandchildren: Gabriel Kaven, Alana Hammer, Aaron Breitkreutz, Ryan Breitkreutz, Kyle Breitkreutz, Larissa LaCanne, Hallie Kemnitz, and Kassi Howard; her 14 1/2 great grandchildren; her two sisters-in-law:  Esther Bluhm of Cosmos and Fern Corley of California; and her brother-in-law Al (and Colette) Wiehr of Hutchinson. Fern was preceded in death by her parents;  husband Clarence T. Kaven; her second husband Harold "Butch" Wiehr; her brother Virgil Sollie; her sister Leota Ryman; and an infant daughter Becky Lynn.
Blessed Be Her Memory
Share this article