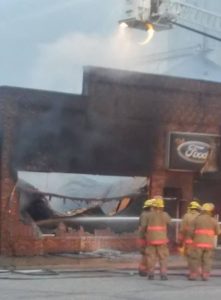 The state fire marshal's office is investigating the Monday morning fire that destroyed The Food Garage restaurant in Lake Lillian.
Fire crews from several area communities were called to the business on the south end of Lakeview Street, Lake Lillian's main street, just after 3 a.m. The building, a former Ford garage, was fully engulfed when fire crews arrived, and crews remained at the scene for most of the the day yesterday preventing flare ups and preventing damage to adjacent buildings.
Lake Lillian Fire Chief Ross Wittman has not returned calls for comment on the cause. In September 2013 the Lake Lillian Liquor store burned as the result of arson, and the owner was later convicted.
(JP Cola, KWLM)
Share this article