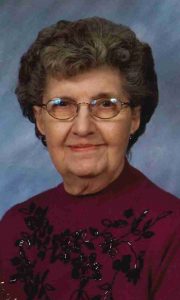 Carol J Gode age 90, of Lamberton, MN died on September 8, 2017, at Valley View Manor Care Center in Lamberton, MN.
Visitation will be on Thursday, September 14, 2017, from 4:00 pm to 7:00 pm at the Sturm Funeral Home, Lamberton Chapel and will continue on Friday from 9:30 am until 10:30 am at the United Methodist Church in Lamberton, MN.
Service will be held at the United Methodist Church in Lamberton on Friday at 10:30 am.
The clergy will be Pastor Kirk Doering and Chaplain Noel Wetter. Interment will be at the Lamberton Cemetery in Lamberton, MN.
Arrangements are with the Sturm Funeral Home in Lamberton, MN. On line condolences may be left for the family at www.sturmfh.com.
Carol Joyce Gode was born on July 9, 1927, in Springfield, MN, the daughter of Albert and Ella (Howe) Kersten. She attended and graduated from Springfield Public School in 1945. On September 25, 1946, Carol was united in marriage to Ellsworth Gode at the EUB Church in Springfield. The couple lived and farmed in Germantown Township until their retirement and moving to Lamberton in 1979. She was an active member at the Lamberton United Methodist Church in Lamberton and had a deep love for Jesus and unending faith. Family time was important to Carol; she loved time with her grandchildren and great grandchildren and also baking and cooking with her sisters for holiday and family dinners. Carol also enjoyed gardening and sewing.
She is survived by her children – Joyce (Tom) Hoffrogge of Lamberton, MN, James (Monica) Gode of Sanborn, MN, and John (Deb) Gode of Sanborn, MN; 5 grandchildren; and 9 great grandchildren. She was preceded in death by her parents; a daughter – Janice; granddaughter – Krista; and sisters – Marjorie Sandmann and Virginia Matzke
Share this article