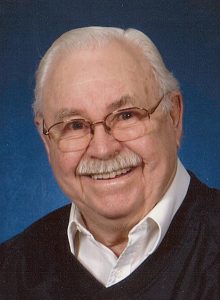 Don Gustafson, 90, of Redwood Falls died Tuesday, August 8, 2017 at Season's hospice in Redwood Falls. Mass of Christian Burial will be held at 2 p.m. on Friday, August 11, 2017 from St. Catherine's Catholic Church in Redwood Falls. Burial, with military honors, will follow at the church cemetery. Visitation will be held on Friday, from 1 until 2 p.m., at the church
Arrangements are with Nelson-Hillestad Funeral and Cremation Service of Redwood Falls. E-mail condolences may be sent via www.nelson-hillestad.com.
Donald George Gustafson grew up in Fairfax and served his country with the United States Navy during World War II. Don served aboard the USS Walker, USS Springfield, and the USS North Carolina BB55. He was on the USS North Carolina, adjacent to the USS Missouri, in Tokyo Bay at the signing of the surrender of Japan to end the war.
He married Ruby Spiering in 1974 and they resided in Fairfax and Redwood Falls. Don and Ruby raised their five children in Redwood Falls. Don was a businessman in the community. He enjoyed cabin life, hunting and fishing, gardening and woodworking.
Don is survived by his wife Ruby, five children, 13 grandchildren, 18 great-grandchildren, and one great-great-grandchild.
Blessed be his memory.
Share this article