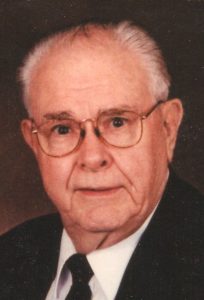 Lyman Ellsworth Throngard, age 94, of Renville, died Monday, August 7, 2017, at the RenVilla Nursing Home in Renville.  Funeral services will be 11:00 a.m. Thursday, August 10, 2017, at the Assembly of God Church in Granite Falls.  The Revs. Dustin McClab  and David Johnson will officiate.  Burial will be in Trinity Cemetery in Sacred Heart.  Visitation will be Thursday one hour prior to the services at the church in Granite Falls.  Arrangements with Dirks-Blem Funeral Service, Renville, MN.
Lyman Ellsworth Throngard was born on March 1, 1923, in Sacred Heart, Minnesota to Theodore and Hilma (O'Garden) Throngard.  He grew up in Sacred Heart and graduated from Sacred Heart High School in 1942.  He was united in marriage to Eleanor Lanning on February 22, 1951, in Montevideo.  He worked for Romness Brothers in Sacred Heart as a mechanic until February of 1943, when he was drafted into the Army.  He served in the medical corps with the 188 General Hospital in England and France, receiving an honorable discharge in April of 1946.  He returned home and resumed working with Romness Bros. until 1951, when he became custodian and bus driver for the Sacred Heart School District.  His hobbies was photography, he enjoyed taking and printing pictures for the school yearbook, and also for the museum of which he was an active and charter member of.  He was a member of the Sacred Heart American Legion and the Lions Club.  He was also a member of the Assembly of God Church in Granite Falls.
Lyman is survived by his wife Eleanor, his nephews:  Howard, Jr. of the Philippines, and Lowell of Severn, Maryland; and other relatives and friends.  He was preceded in death by his parents, and his brother and sister-in-law Howard and Randy Throngard, and his nephew Robert Throngard.
Dirks-Blem Funeral Service, Renville, MN
www.dirksblem.com   320-329-3555
Share this article