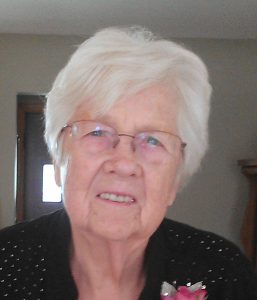 Grace M. Rambow, age 94, of Sleepy Eye, MN died on July 13, 2017, at Sleepy Eye Care Center in Sleepy Eye.
Visitation will be on Friday, July 21, 2017 from 10:00 am to 11:00 am at Grace Evangelical Lutheran Church.
Service will be held at Grace Evangelical Lutheran Church, on Friday, July 21, 2017 at 11:00 am.
The clergy will be Nathaneal Mayhew.
Interment will be at the Springfield City Cemetery in Springfield, MN.
Arrangements are with Sturm Funeral Home in Sleepy Eye, Minnesota.
On line condolences may be left for the family at www.sturmfh.com.
Grace Marcella Rambow was born on August 7, 1922 in Sundown Township, Brown County, MN to Edward & Elida (Bredvold) Norell. She married Wilbert Rambow on October 6, 1942 in Martinez, CA. Grace was a homemaker. She was a member of Grace Evangelical Lutheran Church and the Ladies Aid. She enjoyed gardening, sewing, cooking, baking and spending time with her family. She will be remembered as a kind and sweet lady.
She is survived by her children, Janice (Lynn) Sandhoefner of Minnetonka, MN, Gary (Beverly) Rambow of Mankato, MN, Cheryl Patz of Bellingham, WA, Tim (Deb) Rambow of Morgan, MN; 9 grandchildren; 10 great grandchildren; sister, Yvonne (Don) Leider of Markesan, WI and sisters-in-law, Shirley Norell of Temperance, MI and Elaine Jorgenson of St. James, MN. She was preceded in death by her parents; husband, Wilbert in 2001; sister, Avis Heylen, and brothers, Glen, Bill and John Norell.
Share this article