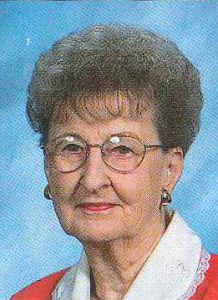 Lillian L. Johnson age 93, of Sleepy Eye, died on April 10, 2017, at Divine Providence Community Home in Sleepy Eye.
Visitation will be on Thursday, April 13, 2017 from 11:30 am to 1:30 pm at the Trinity Lutheran Church, Sleepy Eye, MN.
Service will be held at the Trinity Lutheran Church on Thursday, April 13, 2017 at 1:30 pm.
The clergy will be Pastor Keith Ainsley. Interment will be at the Home Cemetery in Sleepy Eye.
In lieu of flowers memorials are preferred to Trinity Lutheran Church or Sleepy Eye Medical Center.
Arrangements are with the Sturm Funeral Home in Sleepy Eye, Minnesota. Online condolences may be left for the family at www.sturmfh.com.
Lillian "Lill" Johnson was born on February 14, 1924 in Sleepy Eye, MN to George & Olga (Knudsen) Nielsen. Lillian was baptized March 10, 1924 and later confirmed her faith on April 10, 1938 at Trinity Lutheran Church. She attended Sleepy Eye Public School and graduated May of 1941. After graduation she was employed at the Sleepy Eye Medical Center in the office, the City Clerk's Office and retired from the Sleepy Eye Telephone Co. in March of 1986 after 23 years. On August 17, 1946 she was united in marriage to Jerome Lyle Johnson at Trinity Lutheran Church. The couple shared 51 years of marriage before Jerome passed away on April 1, 1997. Lillian was an active member of Trinity Lutheran Church. She was the oldest lifetime member. She enjoyed making thousands of cookies for WELCA's annual "Cookie Walk". She also delivered Meals on Wheels, was a member of St. John's Lutheran Home Auxiliary and volunteered at bingo. Lill enjoyed her flower garden especially raising gladiolus which graced the church altar. She was happy to have entered 10 flower arrangements in the 2000 Brown County Fair and received 5-1st place and 5-2nd place ribbons. She also enjoyed her daily walks, baking and trying new recipes. Lillian and Jerome enjoyed traveling to all 50 States except Hawaii, 8 Provinces in Canada and Mexico. Being with Tom and Allan was very special to her as was having lunch with her 3 sisters and brothers-in-law.
She is survived by her sons, Allan of Sleepy Eye, Thomas of Ely, MN, sisters, Marian Rustvold of Edina and Jo Ann Butte of Plymouth and brothers-in-law, Robert Rustvold of Edina and Robert Johnson of Oakland, CA. She was preceded in death by her parents, husband, Jerome, sister, Lois Beilke and brothers-in-law, Donald Beilke and Ronald Butte.
Share this article