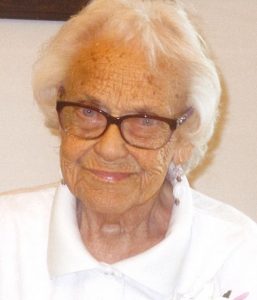 Belva Zimmerli, 89, of Redwood Falls died Thursday, March 16, 2017 at Wood Dale Home in Redwood Falls. Memorial Services will be held at 1 p.m. on Wednesday, March 22, 2017 from First United Methodist Church in Redwood Falls with inurnment to follow in Crestlawn Gardens. Visitation will be held on Wednesday, at the church, from 11 a.m. until 1 p.m.
Arrangements are with Nelson-Hillestad Funeral and Cremation Service of Redwood Falls. E-mail condolences may be sent via www.nelson-hillestad.com.
Belva Marie Zimmerli, the daughter of Russell and Josephine (Stadick) Brandt, was born April 18, 1927. She graduated from Wabasso High School in 1945. After high school, Belva attended commercial college in Mankato before marrying Herbert Reese of Morton in 1948. Together they had five children and farmed near Clements until Herb's death in 1965. Belva waitressed several restaurants and worked as a bookkeeper at Zieske's Lumber Yard, the Rowena Elevator, Clements Grain & Feed and Wabasso Grain & Feed while continuing to farm with the help of her children.
Belva married Leonard Zimmerli in 1969 and together they had a daughter. Belva always helped on the farm where they lived – north of Wabasso. In 1981, they retired and moved to Redwood Falls. They enjoyed many years of camping and their lake homes on Pelican and Diamond lakes. Belva also enjoyed traveling, especially their trips to Hawaii, Alaska, Germany and Switzerland, and their many trips to Branson. Belva was a member of the Pilgrim United Methodist Church, Wabasso and First United Methodist Church, Redwood Falls and a member of the United Methodist Women. Belva enjoyed entertaining family and friends and liked to plan coffee and cards parties with "the neighbors." Belva always had a garden and loved her flowers. She crocheted many afghans over the years. Belva loved listening to polka music and was a huge Nascar racing fan. She lived the last year of her life at Wood Dale Home.
Belva is survived by her children Trish (Duane) Engler of Minnetonka, Larry Reese of Arizona, Gary (Cindy) Reese of Springfield, Jack (Jody) Reese of Sartell, and Karin (Karl) Ramey of Redwood Falls; daughter-in-law Lavonne Reese of Sanborn; grandchildren David, Megan, Jesse, Tracie, Tamara, Justin, Kassa, Jenni, Jason, Jordan, Tashia, Mindy, Amber, Kendra, Kiley and Karsyn; and 24 great-grandchildren. Also surviving are her sisters Joann Gold, Janet Becker, and Norma Brandt; brothers Dean Brandt, and Tom Brandt; sister-in-law Mildred Anderson; and brother-in-law Roger Reese.
Belva was preceded in death by her parents; her husbands Herbert Reese and Leonard Zimmerli; and son Steve Reese.
The family thanks her caregivers and friends at Wood Dale Home and Compassionate Care Hospice for their loving care of Belva.
Share this article