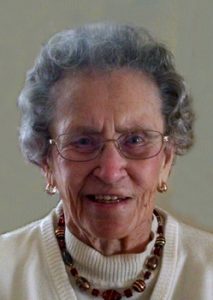 Erma Pratt of Redwood Falls died on Thursday, March 16, at Seasons House.  She was 98.
Erma Lee Roush, daughter of Francis and Myrtle (Smith) Roush, was born on February 4, 1919 on a farm near Morton, Minnesota.  She graduated from Morton High School in 1937 and then enrolled in "normal school" in Hutchinson, Minnesota for teacher training after which Erma taught in Renville County country schools.
After a six-year courtship Erma married Leslie Pratt on July 24, 1942 at Morton Methodist Church.  They made their home in Redwood Falls.  Six years later, they built the home in which they raised their family.  It was close to the park and just one block from the tiny, one-bedroom apartment in which Les and Erma's first three daughters were born.  Two more daughters followed.
For the first 20 years of marriage Erma was what is now called a stay-at-home mom.  In 1964 she was hired as the stockroom clerk at J.C. Penney's.  Until her retirement in 1984 all the merchandise in the store went through her capable hands.  Too busy to read much until she retired, Erma became a voracious reader, and three weeks before her death she finished The Hubble Cosmos, a book which totally enthralled her.  During retirement she and Les also traveled all over the United States except for Hawaii. (Hawaii didn't make the cut because Les didn't want to "fly over the water.")
Erma always liked the park, but after retirement she started to walk there regularly.  She knew where the deer bedded down at night and where the trillium bloomed in spring.  She knew where the spring was and the way to the wild plum trees.  Once she got stuck in a snowbank and had to use her problem-solving skills to get out of it and get back home before dark.  After she reached 90, Erma's walks gradually became shorter and less strenuous.  In the last couple years it was an effort to make it as far as the kiddie park, but she was game to try.
Some of Erma's other interests were baking, cooking, gardening, yard work and sewing.  Over 62 years of marriage thousands of yards of fabric were turned into clothing and household items.  Erma wore out two or three sewing machines in the process.
Erma was preceded in death by Les, her husband of 62 years.  She was the last survivor of all her siblings and sisters-in-law and brothers-in-law.  She is survived by her daughters Carla (Ray) Erpelding, Karyl (Jeff) Beeman, Janet Selim, Joyce (Dennis) Schwarzrock, Marlys (Jerry) Skoblik; grandchildren Lindsey (Beeman) and Dave Bunting, Brian Schwarzrock, Eric (Kristin) Schwarzrock, Kyle (Sara) Schwarzrock, Christina (Schwarzrock) and Taylor Van Batavia, David Skoblik, Emily Skoblik-Diallo and Samballa Diallo, Benjamin Skoblik; step-grandchildren Caroline (Erpelding) and Joe Hendren, Anne (Erpelding) and Todd Roberts; and 5 great-grandchildren and 4 step-great-grandchildren.
Services for Erma are at 1:00 p.m. on Tuesday, March 21, 2017 at First United Methodist Church in Redwood Falls with burial to follow at Redwood Falls City Cemetery.  Visitation will be held on Monday, March 20, 2017 from 6-8pm at Nelson-Hillestad Funeral Home in Redwood Falls and on Tuesday from noon to 1 p.m. at the church.  Memorials are preferred to First United Methodist Church in Redwood Falls or Ramsey Park.
Share this article