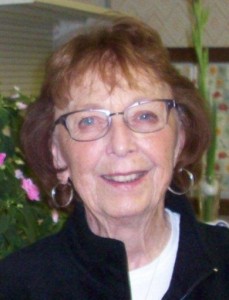 Shirley N. Wenzel, age 86, went to meet her Lord peacefully surrounded by family, on November 29, 2016. Funeral services will be held at Our Savior's Lutheran Church in Bird Island on Saturday, December 3, 2016 at 11 a.m. with Pastor Nick Huseby officiating.  Visitation will be for one hour prior to service at the church. Interment will be held at St. John's Lutheran Church Cemetery in Osceola Township, rural Bird Island. Arrangements are with Dirks-Blem Funeral Service, Olivia, MN.
Shirley Norene Wenzel was born on September 18, 1930, the daughter of G.H. and Olga (Lange) Janke. She grew up on the farm and graduated from Hector High School in 1948. She went on to St. Cloud Teacher's College, graduating in 1950. She taught school in Hector and Bird Island. On December 29, 1949, she was united in marriage to Virgil Wenzel at St. Paul's Lutheran Church in Hector, MN. They made their home in Hector until 1956, when they moved to Bird Island, MN. This marriage was blessed with 2 daughters, Connie and Jodi. Shirley was an active member of Our Savior's Lutheran Church, including teaching Sunday School for many years. Shirley enjoyed golfing, fishing, gardening and especially playing bridge and Shanghai. She was involved in garden club and many different bridge groups. She and Virgil initiated the Winter Bridge group in 2006 in Bird Island. Family was important to Shirley. She was especially appreciative of the love and support of Virgil, who passed away in March 2015, after 65 years of marriage. The family time spent at Nest Lake, fishing and teaching the kids and their friends to water ski, was precious. Wintering in Gulf Shores, Alabama, created many lasting memories. Shirley was a very caring and generous person, helping many people throughout her life.
Shirley is survived by her two daughters, Connie and Jerry Peterson of Bird Island, and Jodi and Randy Drager of North Mankato. Grandchildren Ryan and Jamie Peterson of Hutchinson, Jaime and Ross Schermer of Springfield VA, Molly Jones of St. Louis Park, Megan Jones of North Mankato, Jesse Drager of Marshall and Ian Drager of Mankato. Great-grandchildren Austin Beach, Sayre Peterson, Lillian and Jocelyn Schermer. Brother Arlyn and Eileen Janke of Maple Grove. Shirley was preceded in death by her husband Virgil, her Father G.H. (Dick), Mother Olga, and her son-in-law Terry Schemmel.
Blessed Be Her Memory
Dirks-Blem Funeral Service
(320) 523-1102   www.dirksblem.com
Share this article