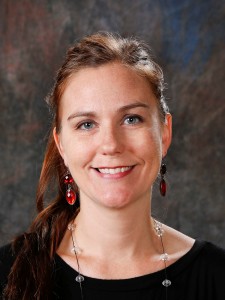 Megan Anne Licklider Twernbold, age 36, of Litchfield, formerly of Renville, died Saturday, November 26, 2016, at her home in Litchfield, MN.  A Celebration of Life memorial service will be at 11:00 AM on Saturday, December 3 at First Lutheran Church in Renville. Visitation will be held Friday, December 2 at the church from 4:00-7:00 PM with a prayer service at 7:00, and also one hour prior to the memorial service on Saturday. Pastor Dan Bowman will officiate, with assistance from pastoral intern Heather Roth Johnson and organist Jeremy Haug.  In lieu of flowers, the family has decided to create an educational fund for Megan's son Jack.  Donations can be made to the Jack Sand Educational Fund.  Arrangements with Dirks-Blem Funeral Service, Renville, MN.
Megan Anne Licklider Twernbold was born May 17, 1980, in Willmar, MN to Daniel & Sandra (Lillegaard) Licklider. She was baptized and confirmed at First Lutheran Church, and grew up in Renville. Megan attended school in Renville, participating in volleyball, choir and band. She continued her education at the University of Minnesota Duluth, receiving a Bachelor of Arts in History with a minor in Spanish, and spent her summers working at Green Lake Bible Camp. After graduating from UMD Megan worked at Woodland Centers, but discovered her passion for teaching while serving as a long-term sub at Renville County West. In 2008 she began working as an elementary Spanish teacher at RCW, and attended the College of St. Catherine on the weekends to complete a teaching certificate. Upon earning a Bachelor of Arts in Elementary Education, she started teaching 4th Grade and later 5th Grade. Megan greatly valued education and school spirit, instilling in her students a love of learning and Jaguar pride.
Megan married Ryan Sand, and son Jack Uriah Sand was born on March 16, 2008. Jack became the most important person in Megan's world. She cherished her time with Jack watching movies, reading, building with LEGO toys, and swimming and boating at the family cabin on Lake Florida. She also enjoyed traveling, and had visited Spain, Mexico, Norway, Costa Rica, India, and Italy. Megan and John Twernbold were married on July 30, 2016, in Litchfield where they resided.
Megan is survived by her husband, John Twernbold, her son, Jack Sand, parents Dan and Sandra Licklider, sister Mandy (and Aaron) Bond and niece Adina, grandmother Gladys Lillegaard, and uncles, aunts, cousins, and many other extended family members. She was preceded in death by her younger brother, Kyle Licklider, grandparents U.T. "Tom" and Violet Licklider, and grandfather, Kermit Lillegaard.
Share this article