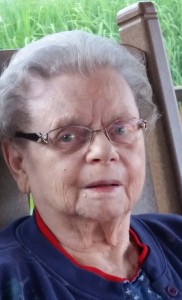 Bernice Trout, age 88, of Cokato formerly of Lamberton, died on November 29, 2016, at Cokato Manor in Cokato, Minnesota.

Visitation will be on Saturday, December 3, 2016 from 10:00 am to 11:00 am at the Our Savior's Lutheran Church, Lamberton, MN.

Services will be held at the Our Savior's Lutheran Church, Lamberton, MN, on Saturday, December 3, 2016 at 11:00 am.

The clergy will be Pastor Mark Jamison.

Interment will be at the Lamberton Cemetery in Lamberton, Minnesota.

Arrangements are with the Sturm Funeral Home in Lamberton, Minnesota. On line condolences may be left for the family at www.sturmfh.com.

Mrs. Bernice Trout, 88, of Lamberton passed away peacefully on November 29, 2016. She was born December 8th, 1927 at the Booth House in St Paul to Theoline Hilde. She entered foster care and lived with the William Olson Family in Hawley, Mn. In 1937 she was adopted by Betsey Aasen of Shetek township. She went on to graduate from Tracy High School and Mankato Commercial College. She worked in Minneapolis for The Cornelius Company. Bernice married Dr. Lyle E. Trout on June 15, 1951 in Tracy. They moved to Lamberton to start his Veterinary Practice that very summer. Lyle was the love of her life and they enjoyed 64 years together. Bernice loved the large family that Lyle came from. It was her idea to take that Sunday drive after church where they always ended up at the Trout family farm. Bernice was employed as the bookkeeper for her husband's veterinary business but she had many other passions. She was an amazing cook, baker, canner, cleaner, organizer and embraced the role of "homemaker". She was most importantly the mother of three daughters, who benefited from her mentoring and who knew that if you called her for anything, she would come. She planned fabulous family events, weekends at the lake and family vacations. She freely invested her time in her grandchildren taking pride in all they did. She also loved to shop. Her granddaughters can attest to the fun they had with her on those shopping and dining trips. Bernice was active in her community working with the blood mobile in Lamberton, member of Our Saviors Women's Group at Our Saviors' Lutheran Church, and a member of American Legion Auxiliary. She also loved to play bridge with friends. She loved to explore the world through travel to the USSR, Ireland, Brazil, Australia and anywhere else she could find a tour and take Lyle along. She was an appreciative guest in these countries and definitely brought home lots of information. When her husband retired they spent many years wintering in Arizona where they could rest, play cards, and have fun with their lifelong friends.

Bernice is survived by her children, Wynnell (Davis James) Kirkpatrick of Cokato, Juanita (William) Sorg of Hastings, and Cynthia (Curtis) Mattison of Hastings. Grandchildren Callista Troup, Kambria Robertson, Ketrah Schreifels, Nathan Kirkpatrick, Kezia Smith, Karl Sorg, Janna Bauer, Gabriella Sorg, Stuart Mattison, and twelve great grandchildren. She was preceded in death by her loving husband Lyle, his parents and her adopted mother.
Share this article