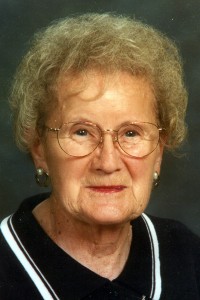 Viola Grafenstein, age 96, of Willmar died Wednesday, November 23, 2016 at Rice Hospital in Willmar. Funeral services will be Tuesday, November 29th at 1:00 p.m. at St. John's Lutheran Church in Renville with Rev. Rick Tuttle officiating. Burial will follow in Fairview Cemetery at Renville. Visitation is Tuesday at the church for one hour prior to the service. Arrangements are with Dirks-Blem Funeral Service of Renville.
Viola Lorraine Grafenstein was born August 9, 1920 at Renville, MN to Jesse and Alma (Hanson) Forkrud. She grew up at Renville and graduated second in her class from Belview High School in 1938. Viola was united in marriage to Wesley Grafenstein on February 25, 1943 and they were blessed with three sons. Since they were married during WWll and Wesley was in the military they lived in several locations throughout the United States. After the war Viola and Wesley made their home in Renville until 1981 when they retired to Willmar. Viola had worked in the kitchen at the Renville school for over 30 years. Wesley preceded her in death in 1987 and Viola had continued to reside in her own home until the time of her death…..and had even continued driving her own car to Renville until she was 93 years old! She has been a longtime member of St. John's Lutheran Church in Renville. Viola had truly enjoyed the outdoors, doing yard work, cooking, and just staying busy.
Viola is survived by her three sons: Dean Grafenstein of Willmar, Kermit (and Linda) Grafenstein of Brooklyn Park, and Gale (and Julie) Grafenstein of Cambridge; her seven grandchildren; several great-grandchildren; and her sister Beverly (and Jim) Ryan. Viola was preceded in death by her parents; her husband Wesley; and her six siblings.
Blessed Be Her Memory
Dirks-Blem Funeral Service, Renville, MN
(320) 329-3555    www.dirksblem.com
Share this article