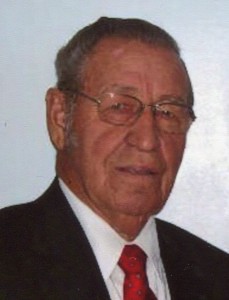 Henry Freiborg, age 87, of Renville, passed away Tuesday, November 22, 2016 at Meadows on Main in Renville. Funeral services will be held Saturday, Nov. 26th at 2:00 p.m. at Ebenezer Presbyterian Church, Renville. The Pastor Anna Williamson will officiate. Burial will be in the church Cemetery in Renville. Visitation will be Friday, from 5:00 – 7:00 p.m. at Dirks-Blem Funeral Home in Renville. Visitation continues on Saturday one hour prior to the services at the church. Arrangements by Dirks-Blem Funeral Service, Renville, Minnesota.
Henry James Freiborg was born on April 21, 1929 to Ike and Annie (Stomberg) Freiborg in Renville, Minnesota. Henry grew up with 5 siblings on the family farm northwest of Renville, just a mile away from his future bride, Harriet Peterson. Henry and Harriet were married on September 10, 1949 and shared 67 years together. Henry served in the Army, stationed in Germany from 1952-54. Following his service, Henry and Harriet returned to the Renville area to farm. Henry was also employed by Lobnitz Implement as a John Deere Mechanic. He was very committed to the value of the "long green line" as his own farming operation grew. During this time their family also grew with the addition of five children. Henry knew the value of hard work and took pride in his family. He followed his children's sporting activities and could be heard shouting encouragement. If you looked closely you could also see a softer side as he would hold Harriet's hand or pick out Teddy Bears as his own special Christmas gift for grandchildren. Henry was active in his church, with the Co-op, as a Red Cross blood donor and delivered Meals on Wheels. He enjoyed gardening, fruit grafting and fishing. He loved Harriet's Apple pie, winning card and board games and sitting by the campfire under a starry sky at the lake. Henry and Harriet enjoyed many sunny winters in Donna, Texas. They always looked forward to returning home to Renville, only a few miles from the beginning of their life together.
Henry lives on forever in his family and friends, in all the gathered riches of his journey. Listen for his footsteps in your heart; he is not gone merely walks within us. Henry is survived by his wife, Harriet, children Sandy (and Bill) Ward of Dassel, MN; Jerry Freiborg of Renville (and friend Olga Bazan); Arlie (and Mary) Freiborg of Okoboji, IA; Loren (and Patty) Freiborg of Fargo, ND; and Deb (and Gary) Hall of Rochester, MN; his grandchildren: Tiffany (and Rob) Schultz, Jeff Ward, Kelly Freiborg, Ryan Fransen, Holly (and Chris) Kraft, Elizabeth (and Jay) Luna, Ben Freiborg, Jake Freiborg, Michael Freiborg, Abigail (and Tony) Amundson, and Brandon Hall; his great-grandchildren: Henry Kraft and Ellanor Luna; his siblings and their spouses: (Mildred Meyer, wife of Boyd); Inez (and Arne) Underland; Della (and Ivan) Underland; Louie (and Junith) Freiborg; Janet (and Larry) Agre. Henry was preceded in death by his parents and brother, Boyd Freiborg.
Share this article