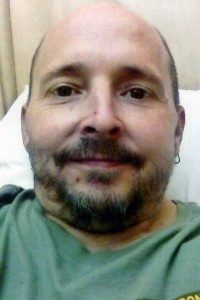 Charles Conrad, age 46, of Buffalo Lake and formerly of Bird Island died Sunday, November 20, 2016 at his home. Funeral services will be Monday, November 28th at 11:00 a.m. at Dirks-Blem Funeral Home in Olivia with Rev. Dennis Labat officiating. Visitation is Monday for one hour prior to the funeral. Burial will be in Sunset Cemetery at Montevideo.
Charles Michael Conrad  was born January 16, 1970 at Minneapolis, MN, to Jon and Carol (Peterson) Conrad. He grew up in a military family so they lived in many locations. After graduating from high school he attended college for computer science. Charles served his country in the U.S. Army for two years. He worked as  a roofing and siding contractor for many years until his medical disability. Charles lived in Bird Island for several years and was now residing in Buffalo Lake at the time of his death. He had enjoyed music, watching X-Factor shows, collecting baseball cards and breeding pit bulls.
Charles is survived by his two children: Ashley Krause Conrad of Bloomington and Cain Conrad (and fiancé Hanna Tauber) of Bird Island; his grandson Leo Kristian Michael Tauber; his father Jon Conrad; his two brothers: Jon and Chris; and his sister Faith. Charles was preceded in death by his mother Carol; and his daughter Jasmine.
Blessed Be His Memory
Share this article